Home

-

Gallery

-

Contact

-

My upper floor

-

Videos - Privacy Policy


AN ORIGAMI GIFT BOX


Only the front of the square piece of paper is coloured.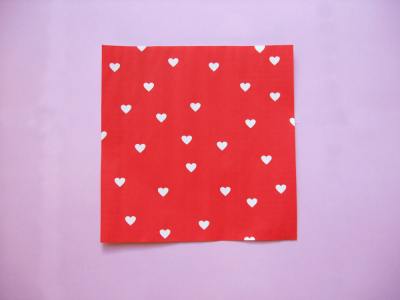 Step 1:
This is the front of the paper.
Turn the paper.







Step 2:
Make a valley-fold over this line.








Step 3:
Roll the model up by laying the piece at the arrows on the
right over the backside of the piece at the arrows on the left.
In the picture of step 4 is an example of how the model looks
after you've done this.
Step 4:
The edge at the 2 arrows below in the picture of step 3 is
on the left side in this picture.
Insert a pencil or something else in the model and push the
edge downwards on several places with your pencil.
Keep holding the model with your other hand like I do
in this picture.



Step 5:
The bottom of the model looks like this after you've pushed
the edge down in step 4.
Place the model on a table with your hand around it, see the
picture of step 6.





Step 6:
Now, insert your pencil in the model again and press on
several places of the bottom to make it flat.


When you've done this it's time to put a little present in
the gift box.



Step 7:
Press on the model from all angles at the place indicated
with the yellow arrows.
Then, twist the model a bit around on this place, so everything
stays on place.





Step 8:
Pull the edge on top of the model a bit outwards, see arrows.








Step 9:
You can use a little bow for decoration of this gift box.
Click here if you want to see diagrams for making this bow

Now glue the bow to the gift box (see the picture below)



The origami gift box is ready!

I used a paper of 7x7 inch for the gift box and
a paper of 2,5x2,5 inch for the little bow.