Home

-

Gallery

-

Contact

-

My upper floor

-

Videos - Privacy Policy
FOLDING A RED FLOWER


Both sides of the hexagon piece of paper are coloured.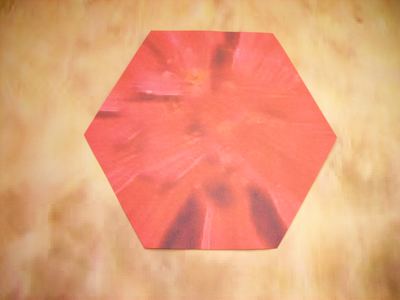 Step 1:
This is the back of the paper. Turn the paper.








Step 2:
Make mountain- and valley-folds over the 6 lines.
Unfold each fold after you made one.







Step 3:
First, make two valley-folds below, at the 2 arrows
Don't make the folds any further then the center of
the paper.
Then, make 2 mountain-folds over the lines next to them.
Continue until the 2 valley-folds on top, on the left.
Now you get a sort of basic shape.



Step 4:
Make a valley-fold over the yellow line.








Step 5:
Unfold the whole model.








Step 6:
Now the center of the paper has to be folded down
over the yellow lines. These are the lines you made
with the fold of step 5.






Step 7:
Here a part of the center is folded down already.








Step 8:
Press the outside of the model back in the shape it had
in step 4, but now with the center of the paper folded down.







Step 9:
Make an inside-reverse fold over the yellow lines.
Now the petal faces aside.
Do the same with the 5 other petals.



The flower is ready!