Home

-

Gallery

-

Contact

-

My upper floor

-

Videos - Privacy Policy
FOLDING A RED FLOWER


Both sides of the square paper are coulored.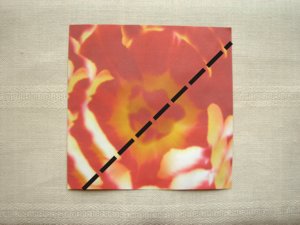 Step 1:
Make a valley-fold over the black line. Make sure you
don't fold the paper exactly in half.







Step 2:
Fold the model in half over the black line.








Step 3:
Now the model looks like this.








Step 4:
Pull the end (see upper white arrow) inside the model a bit
to the front. Then flatten the model, see the small arrows.







Step 5:
Take the 2 ends below and lay the one end over the other,
see the picture of step 6. Don't let the ends fit exactly
together.






Step 6:
Make a mountain-fold on the end on the outside of the model
and a valley-fold on the end on the inside of the model.
Now the 2 ends are locked.





The model looks like this on the inside.



The flower is ready!