Home

-

Gallery

-

Contact

-

My upper floor

-

Videos - Privacy Policy
FOLDING A PINK FLOWER


Both sides of the square piece of paper are coulored. On the front is a yellow circle.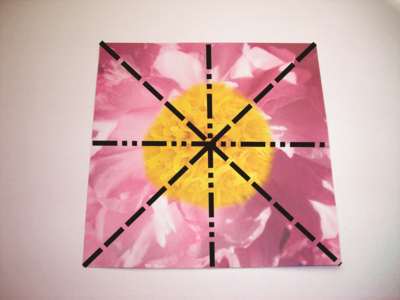 Step 1:
Make mountain- and valley-folds over the black lines.
Unfold each fold right after you made one. Turn the paper.







Step 2:
First make valley-folds over the 2 lines below, on the right
side. Then 2 mountain-folds over the lines in the middle.
And then 2 valley-folds over the lines on top, on the left.






Step 3:
Fold the top of the model double. Open the model.








Step 4:
Now the center of the paper has to be folded down over the
lines you made in step 3.







Step 5:
Now push on the model at the 2 arrows, so the outside of the
model gets back in the same shape as in step 3 (and the
center sinks down)






Step 6:
Make an inside-reverse fold over the black line. Do this by
folding the two layers to the inside and pressing on the model
at the yellow arrow. In the picture of step 9 you can see how
the fold looks.





Step 7:
Repeat step 6 for the other 3 pieces of the model.








Step 8:
Open the piece on the right.








Step 9:
Make a valley-fold over the short lines on the right and
the left of the very short line. Make a mountain-fold over the
very short line. This is also a sort of inside-reverse fold.






Step 10:
Repeat step 9 for the other 3 pieces of the model.








Step 11:
Fold the 2 corners of each petal down. And fold each of the
four petals up.







Step 12:
Pull the piece at the beginning of each arrow over the piece
left of it (in counter-clock-wise direction).







Step 13:
Now the model looks like this.








Step 14:
Take the model in one hand and make a fist of your hand
so the petals will face more upwards.



The flower is ready :-)