Home

-

Gallery

-

Contact

-

My upper floor

-

Videos - Privacy Policy
Origami Silver Bars
If you have nice shiny gold paper, you can also make gold bars using this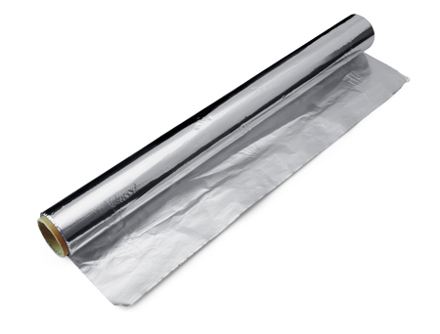 tutorial.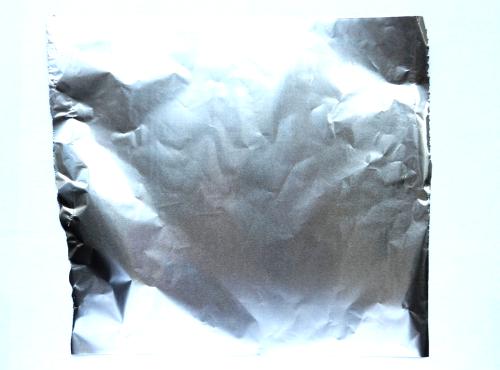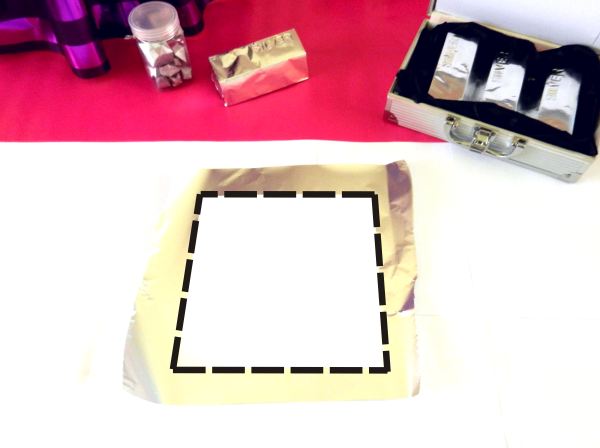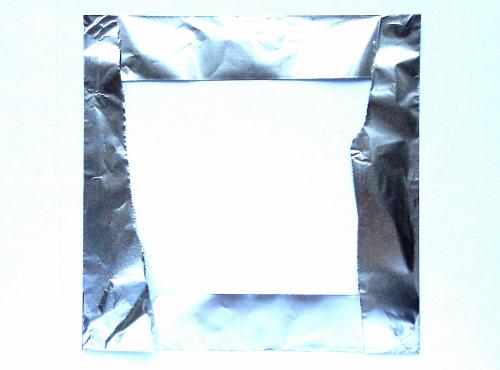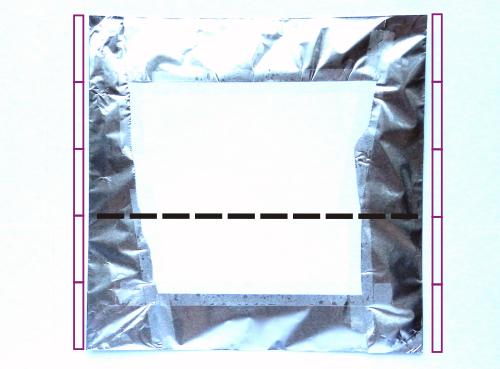 Step 6:
Valley-fold over this line.

Step 5:
The paper is devided in 5 parts of the same size, valley-fold over the black line

Step 2:
Place a square paper of about 20 x 20 centimeters on top of the tin foil.



Step 4:
Tape the tin foil to the white paper.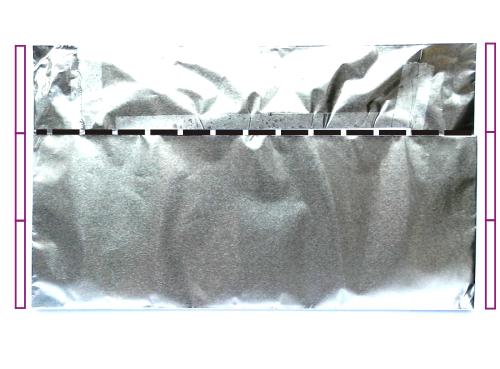 Step 3:
Fold the tin foil around the white paper.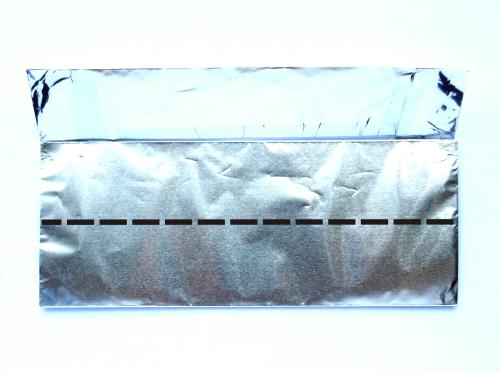 Step 10:
Prefold over these two lines, use the folding lines of step 9 as guidance.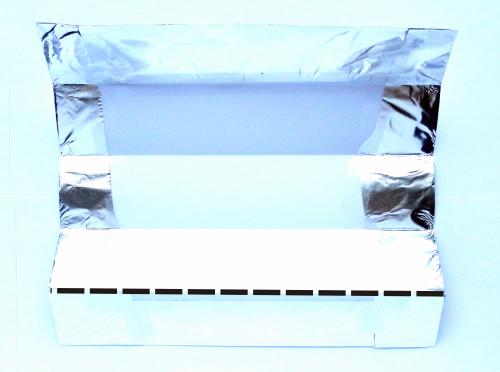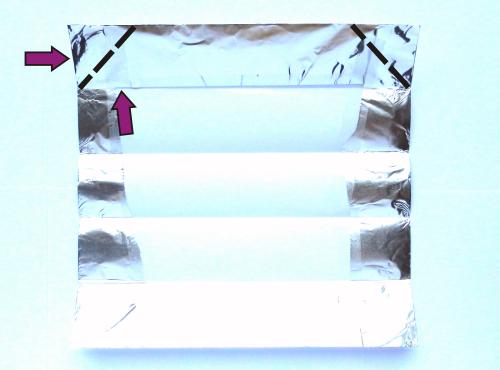 Step 8:
Valley-fold this folding line into the right direction.


Step 9:
Prefold the edge indicated by the arrow on the left to the folding line indicated by the arrow on the right.
Do the same on the corner at the right.


Step 7:
Valley-fold over this line, then unfold the model

Step 1:
Cut of a piece of tin foil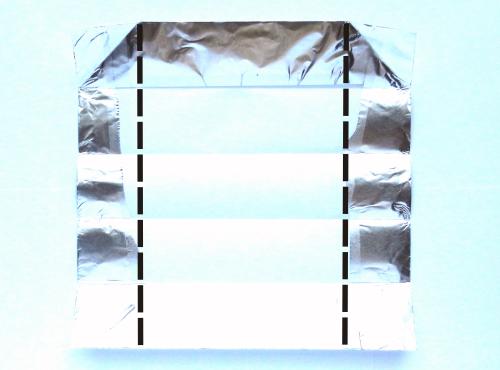 Step 16:
Repeat step 15 on the other three same places, see pink arrows.

Step 15:
Fold the edge indicated by the upper arrow to the edge indicated by the arrow below.

Step 12:
I printed the text "SILVER" on normal paper, cutted it out and layed it on top of the tin foil paper, see picture.
Below the tin-fold paper is a (soft) newspaper to make better embossed text.
Color the text with a pencil. Then remove the paper with printed text.

Step 11:
This is the other side of the paper.

Step 14:
Tape the flap indicated by the arrow to the model.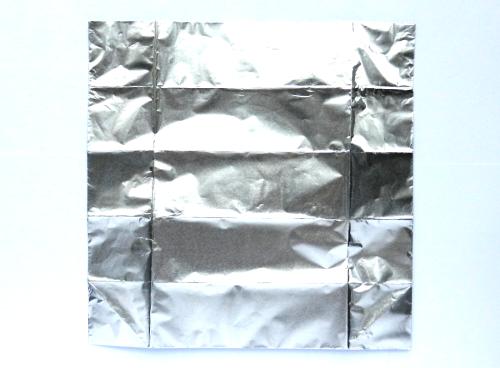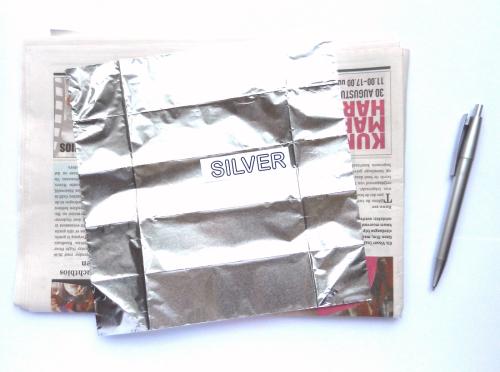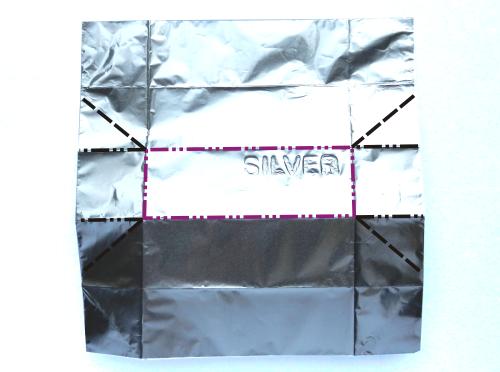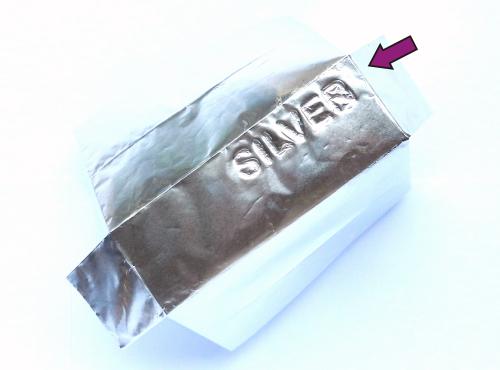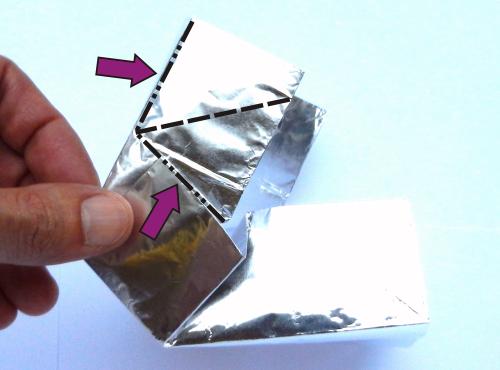 Step 13:
Fold the edges downwards by making folds over the black lines.
Mountain-fold over the four purple lines while you do this.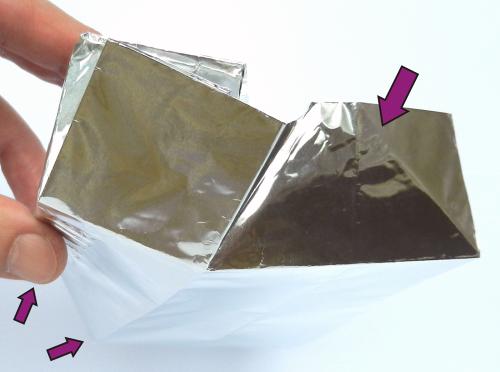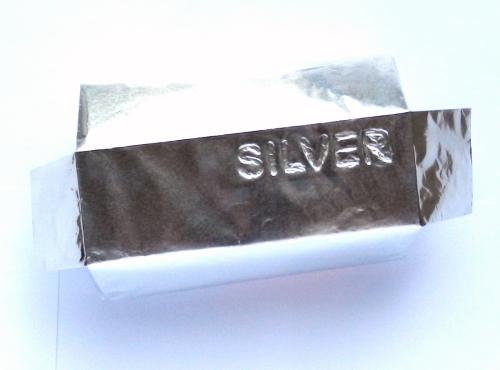 Step 21:
Repeat step 20 on the left.

Step 19:
Place the model on a table.

Step 20:
Make a sharper folding line on the bottom edge at the right, see arrow

Step 18:
Slide the upper edge under the edge(s) indicated by the three arrows.

Step 17:
This is how the model look from above, turn the model upside down.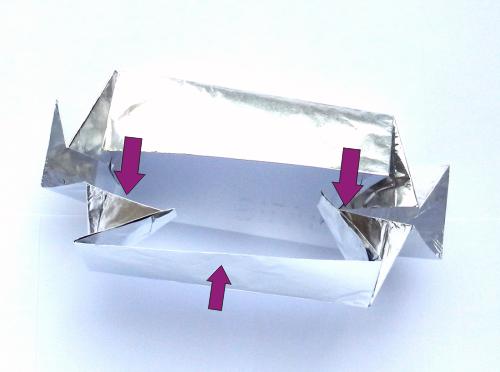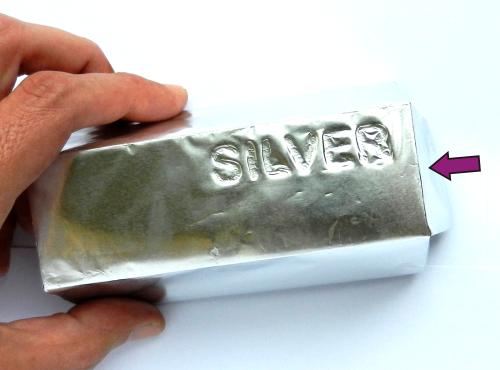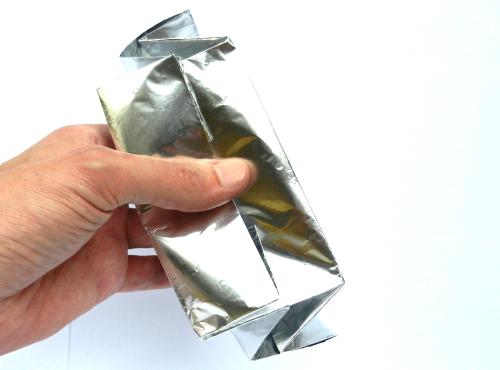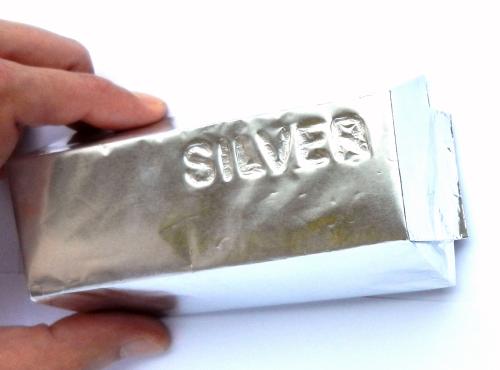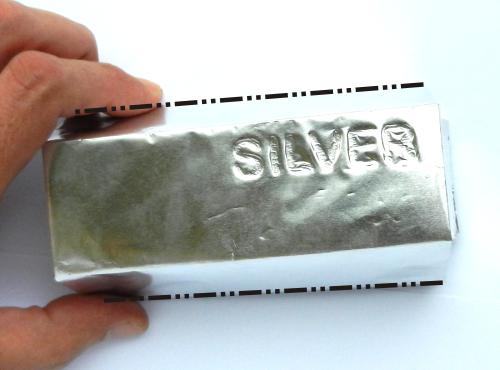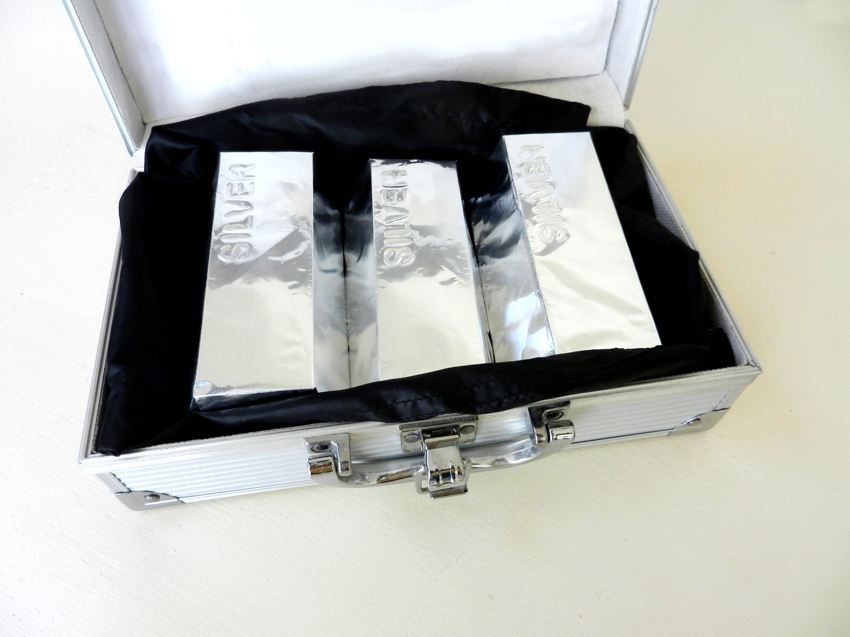 Step 22:
Make these two folding lines sharper too.

Make jewels out of tin foil:
Tin foil is great for making jewelry, this video shows how to make real nice rings:



These earrings are great too!
The site of Stacy Vaughn
has instructions for making them.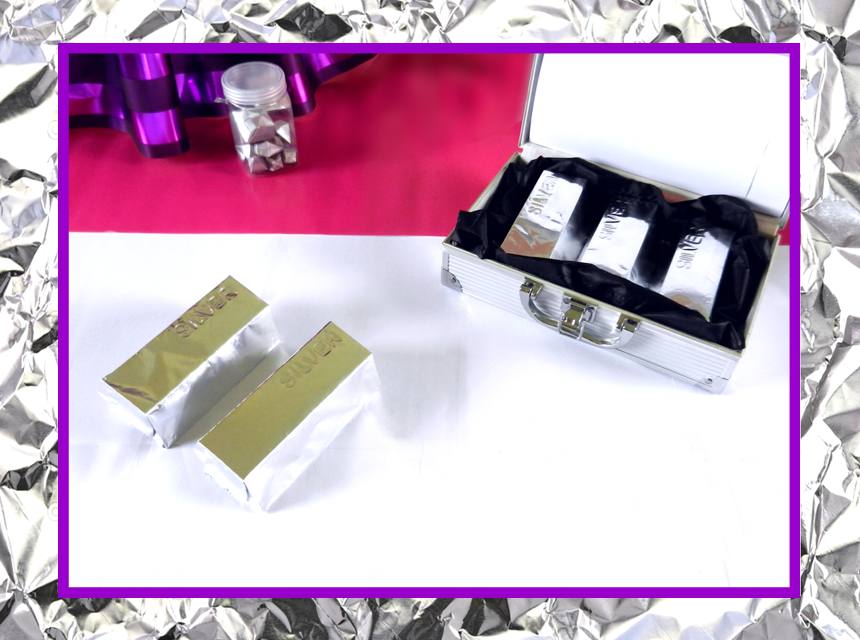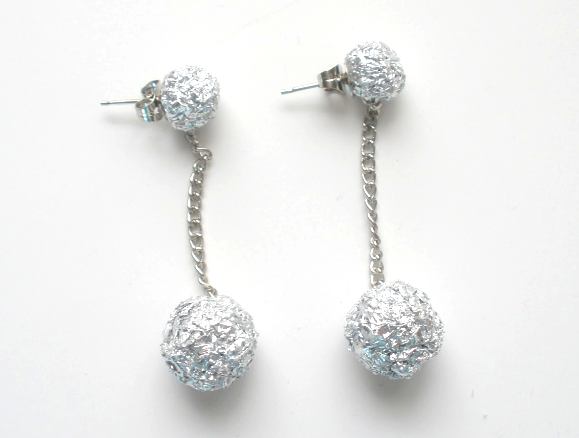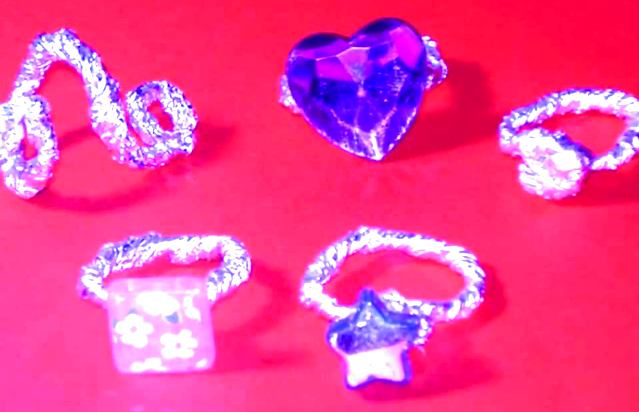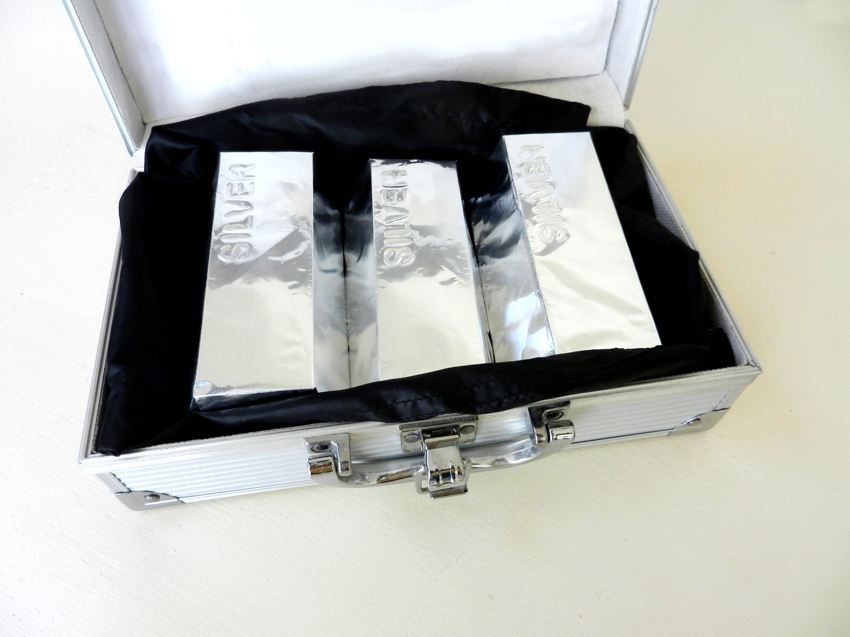 Done! Looking really realistic.


This is a video tutorial for folding the silver bars: