Home

-

Gallery

-

Contact

-

My Origami

-

Videos - Privacy Policy
JOOST LANGEVELD - PROFILE PAGE
Origami Master from the Netherlands - Author of 10 Origami books - Part time IT employee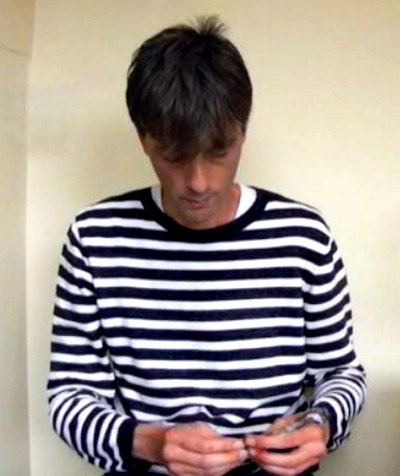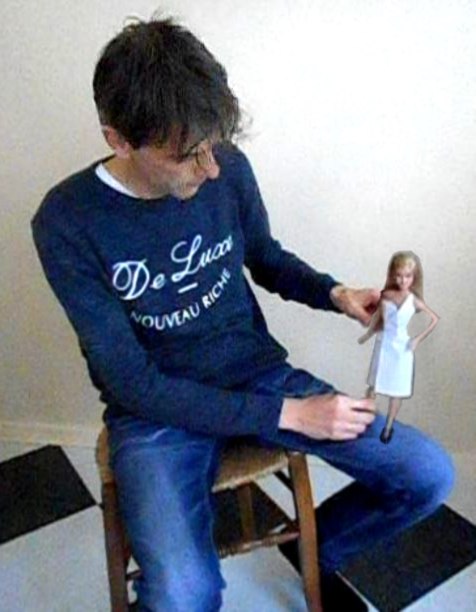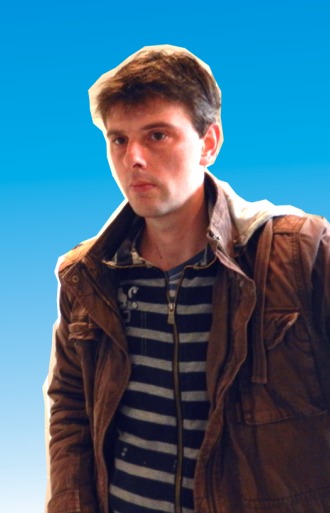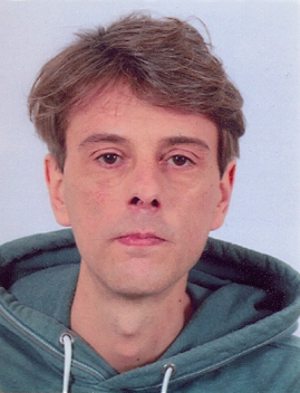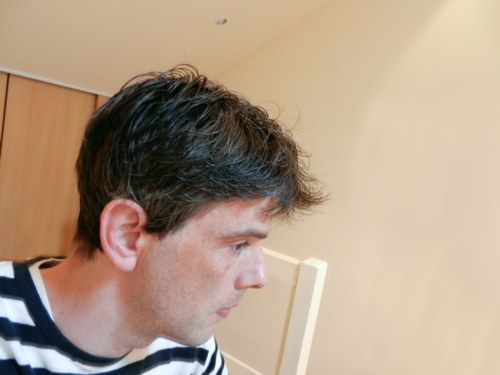 I like making things with my hands and being creative. I've always had ideas / new things
in my head which I want to work out for real.
At pre-teen age I made lots of comic book stories, with friends most times.
I also made things out of Technic Lego (I still do that sometimes).
During teenage I did a lot of software programming, I made simple games and vector animations.
By doing creative things with computers I met many other computer freaks and learned
a lot from them.
When I was about 21 years old I started making things from wood, like

clocks, simple sculptures, small closets and 2 times a poolbiljarts table.

I was 26 years old when I discovered Origami. The nice thing about Origami is that you don't need
loads of materials to make something beautiful. Origami doesn't have to be an expensive hobby,
paper is available in almost every store / shop.

Origami is more for me then just designing models and showing them to other people.

I also like making things in Origami style, like animations, computer games / adventures etc.
Just bringing Origami more alive.

Origami has given me a lot, not just financial, but also contacts with other creative people.
My Origami Videos
After I learned how to design Origami models, I started making DIY videos with my own models.
MetaCafe and YouTube asked me to be their partner because my videos had lots of views.
I've earned the most out of YouTube, but deleted my Youtube channel after 8 Years,
because it was feeling like I was making videos for YouTube instead of for myself and others.
Nowadays I'm spreading my videos over about 5 different sites, including a fresh new YouTube channel.

A large newspaper magazine in my country interviewed me once about my videos and books: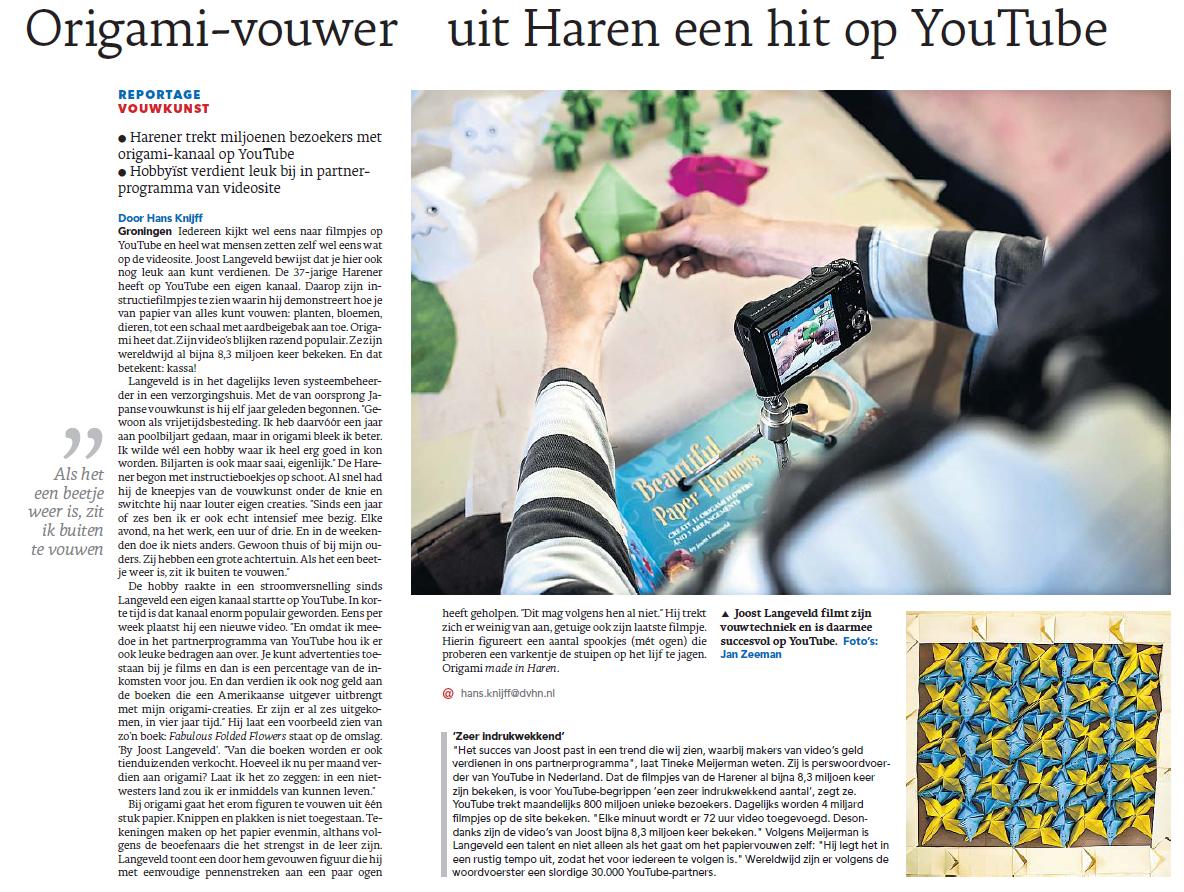 Click here for the site of this Newspaper and here for more info about me (Joost Langeveld)
(Google translate might be helpful)
Instead of people visiting my home , I had an exhibition in a nursery home once, with some of my better Origami models: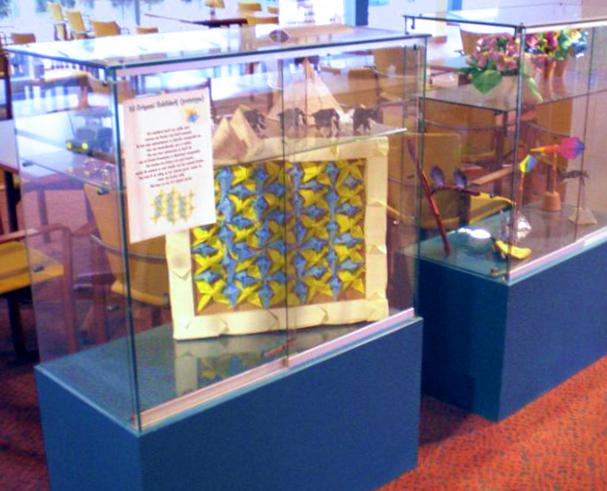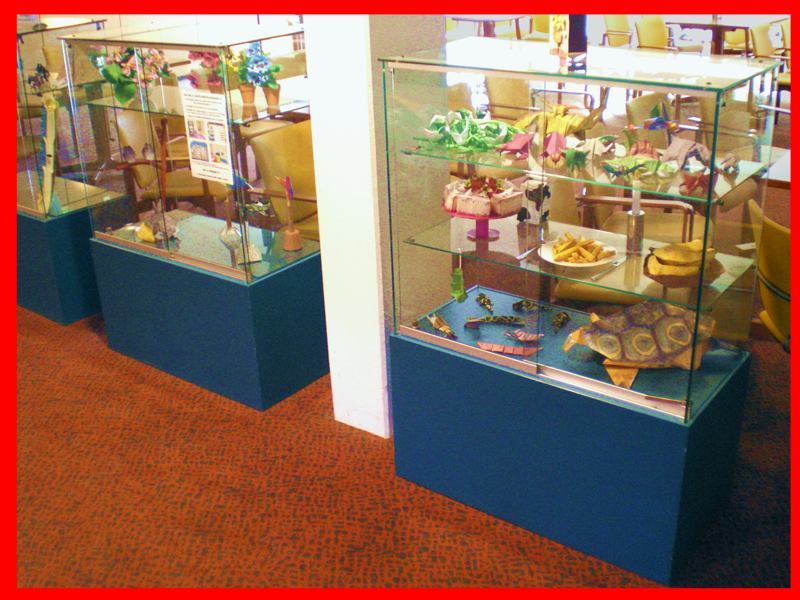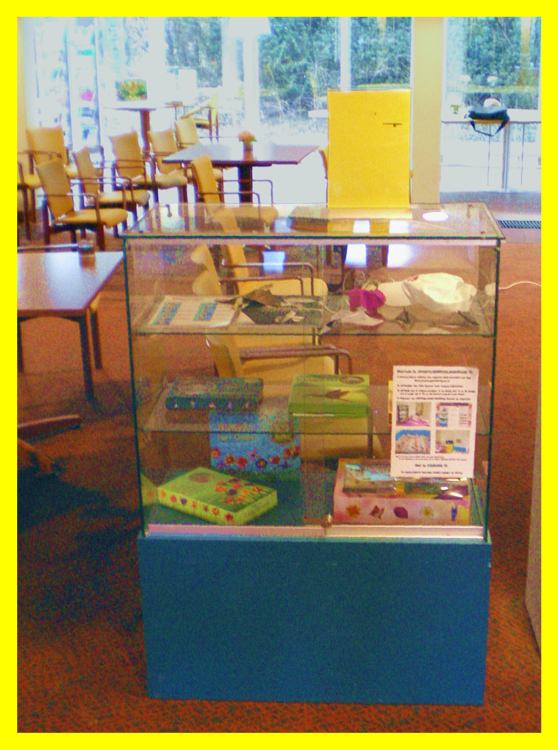 Gardening Magazine
A gardening magazine once placed a small article about my site with Origami flowers: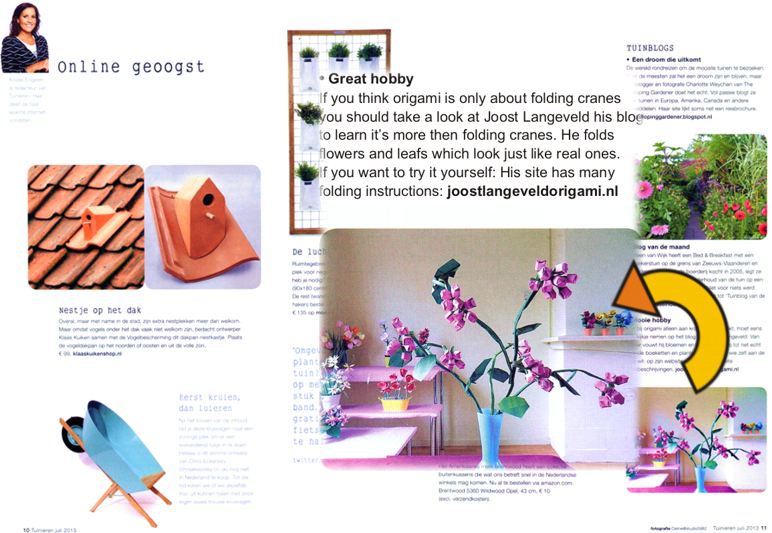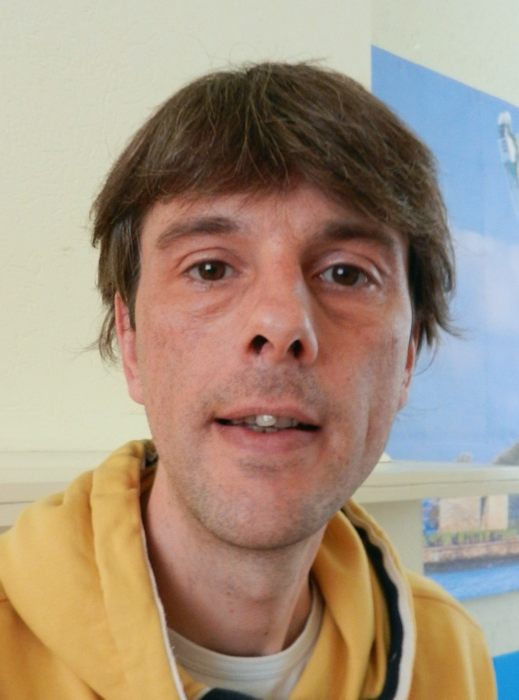 "If you think Origami is only about folding cranes you should take a look at Joost Langeveld 's site




to find out Origami is more than just folding cranes. He folds flowers and leafs which just look like




real ones. If you want to try out yourself: His site has many folding instructions for flowers and leafs."



This is the site of the gardening magazine (with real flowers and leafs)
Guided Tour through my (Origami) house:
RTV Noord (a TV network from the Netherlands) was the first to come at my home for a television interview: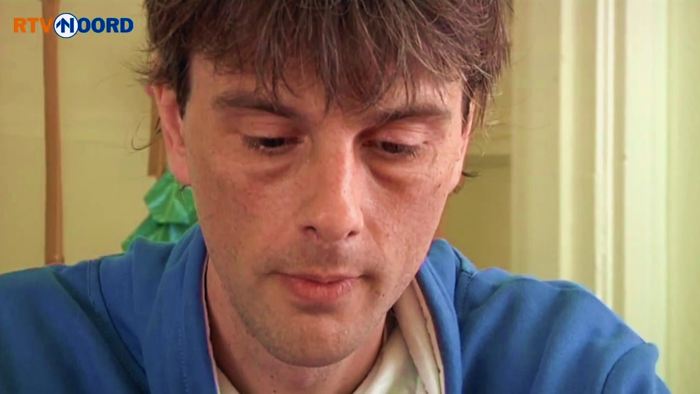 On this page of the TV-station is an article about me
(Google translate might work)

Interview by Simone FM
Simone FM radio did a live interview with me once.
It was fun to do, I placed the interview in this video: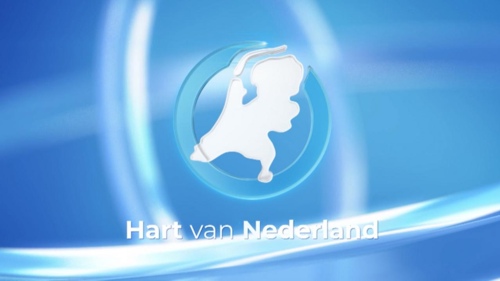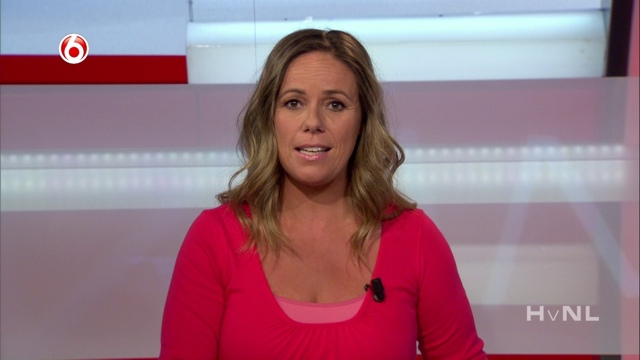 News program with my Origami
I've also been in a news program from SBS6 Broadcasting once, they had a fun time filming at my home:

Origami king of the Netherlands
Next to Willem-Alexander the Netherlands has another king now.
He might be a little less famous, but that will probably change soon.
It's Origami king Joost Langeveld, his videos have millions of hits.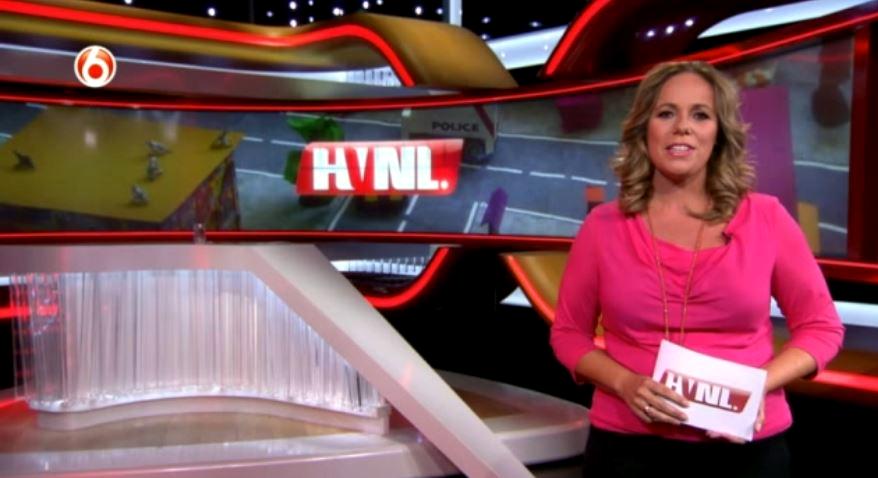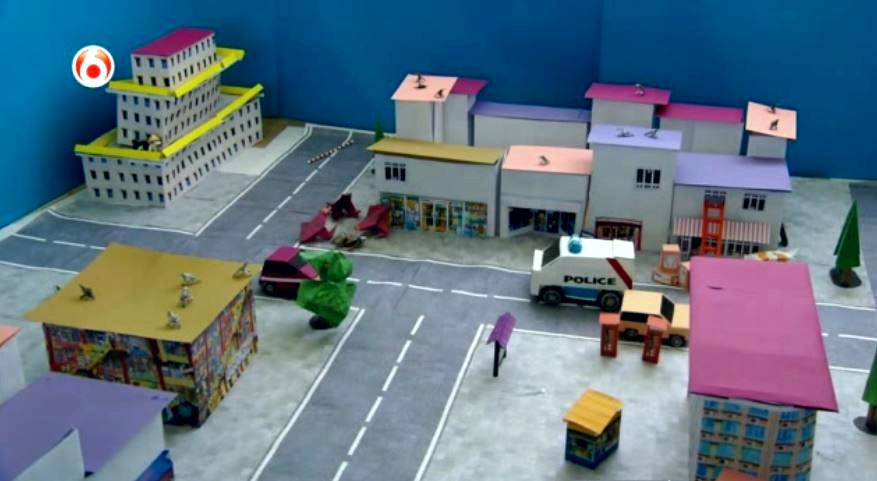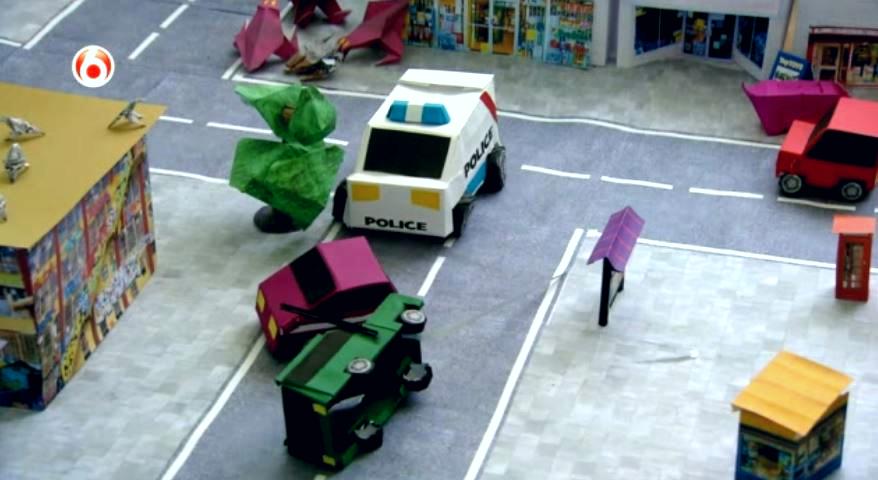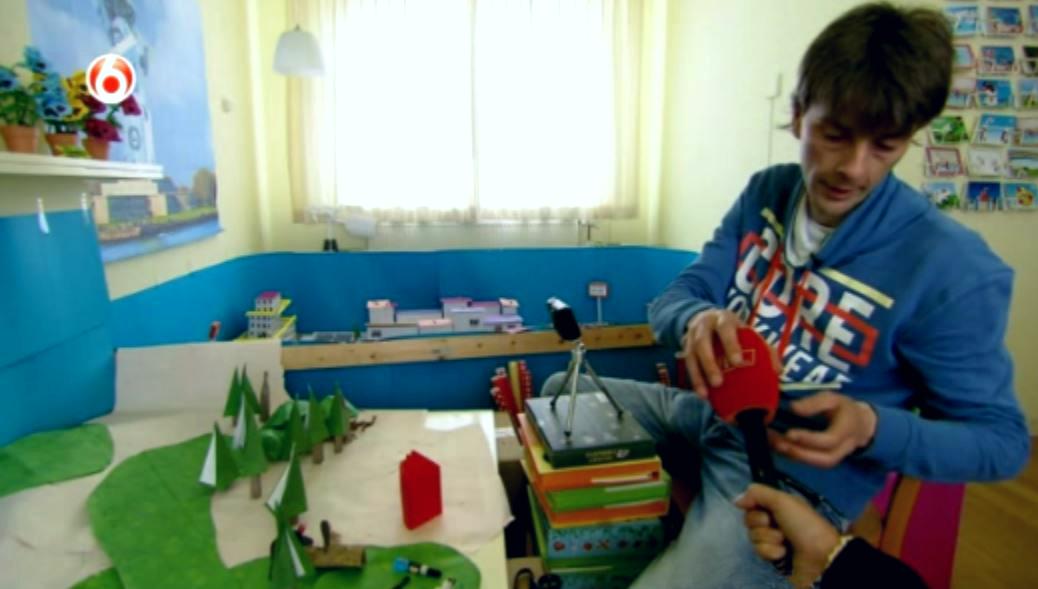 Folding Fish and Chips on Television

Today we have Joost Langeveld in our program, he used to be Origami king, but now he calls himself
Origami "Master". This title is earned when you are extremely good in something and Joost really is.
In his DIY videos Joost shows how to fold beautiful Origami models. His videos have many viewers
all over the world. Joost says: "The fun about Origami is that you only need one piece of paper" .
Today the Origami Master teaches us how to fold "Fish and Chips" of his self made papers.
(text: Man Bijt Hond Netherlands)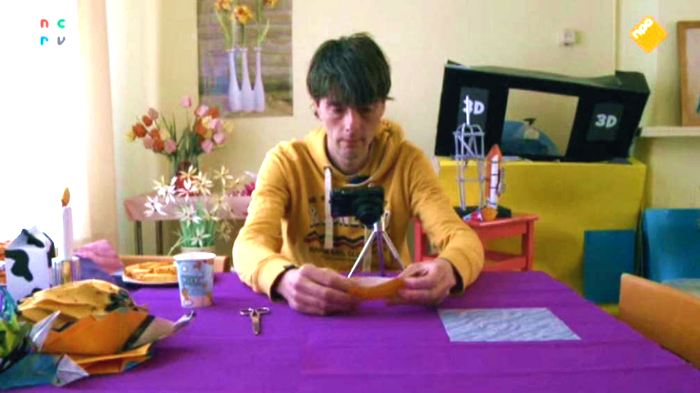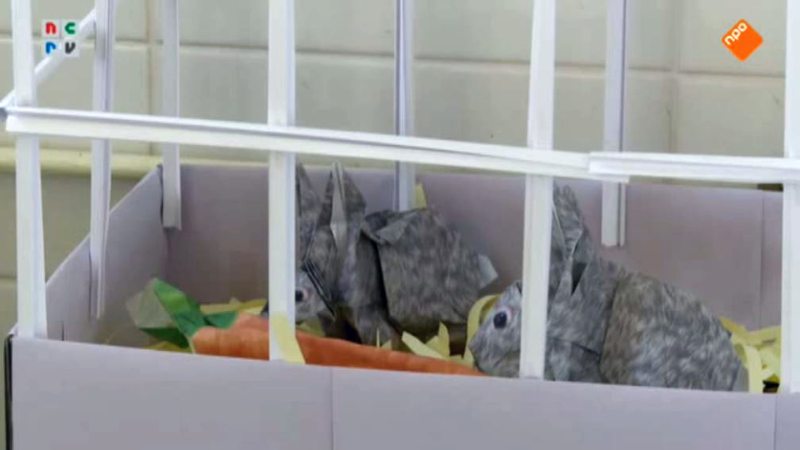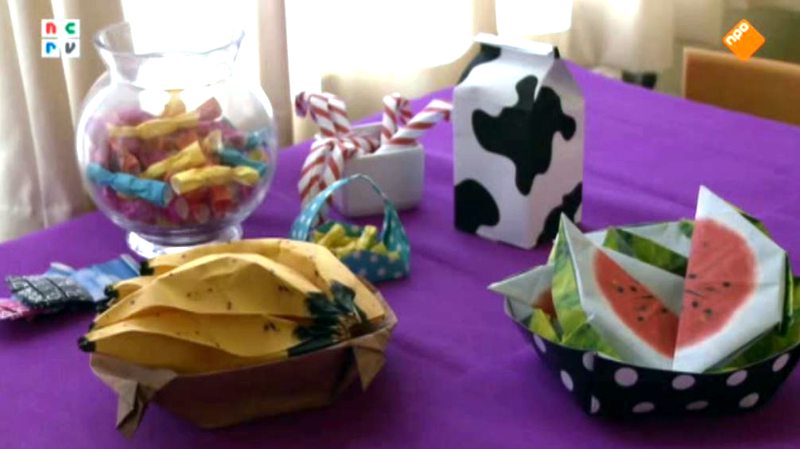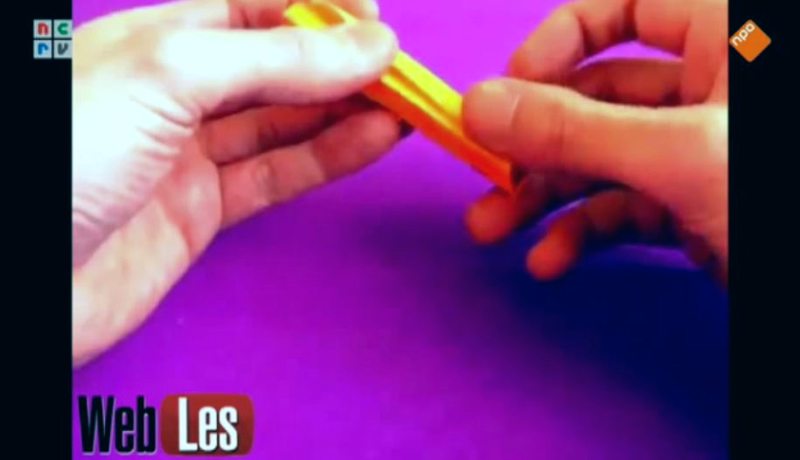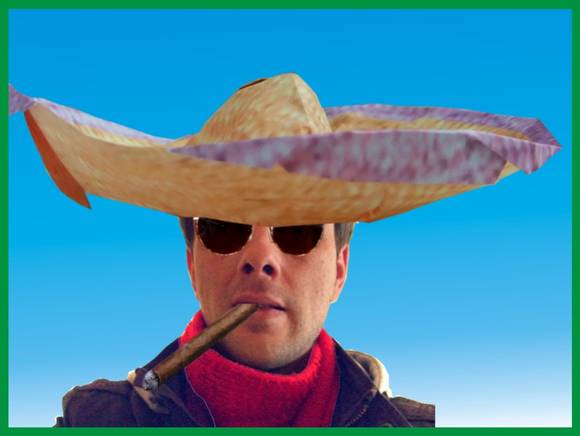 Origami Sombrero
(article in 4 different newspapers in the Netherlands, about 400-thousand readers)
This article has instructions for folding a football supporters sombrero for the match against Mexico at the WK soccer in 2014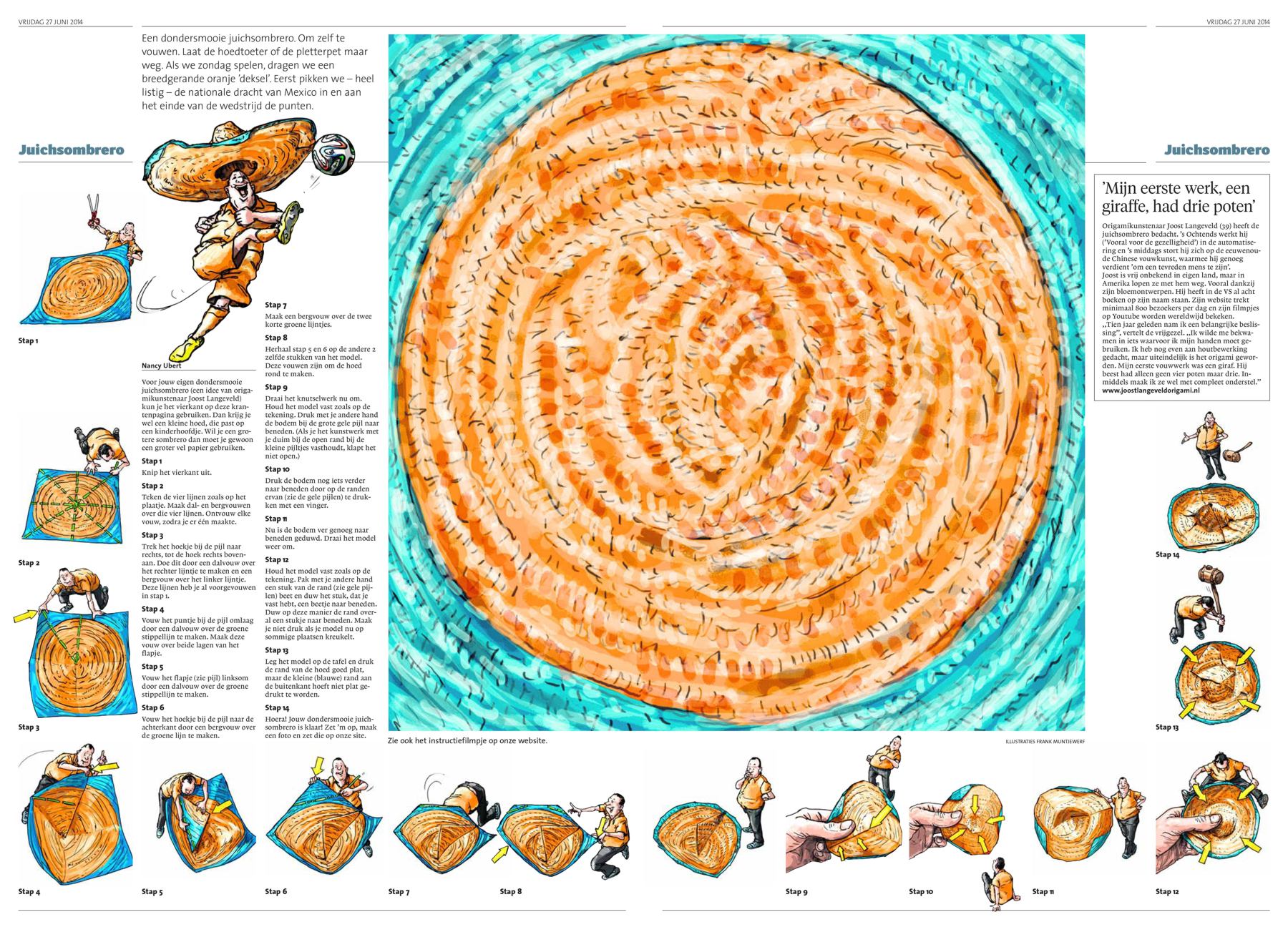 A real cool supporter sombrero. In your newspaper, to fold it yourself.
Forget all other supporter items. Sunday we will all have a sombrero on our head.

Origami artist Joost Langeveld designed the supporter sombrero.
He has a part time IT job and spends most of his time doing the ancient art of Origami.

Joost is pretty unknown in the Netherlands, but much more popular in other countries.
Mainly because of his many beautiful flower designs. He made 8 books until now.
His site has more then 800 viewers a day and his Origami videos have really many viewers all around the world.

Hands

,,Ten years ago I made an important decision'', says Joost. ,,I wanted to be very good at an art or craft.
I have been thinking about woodcraft, but decided that Origami was more fun for me.
One of my first designs was a giraffe. It only had three legs. Nowadays I can design one with the full four legs"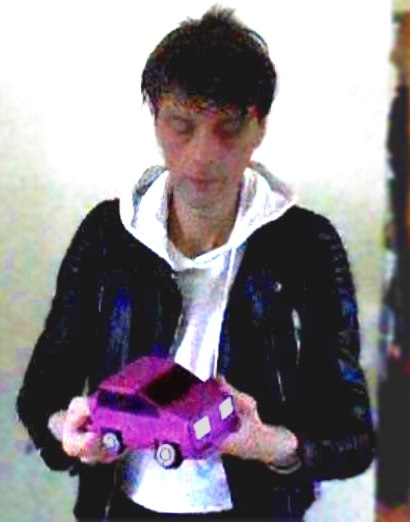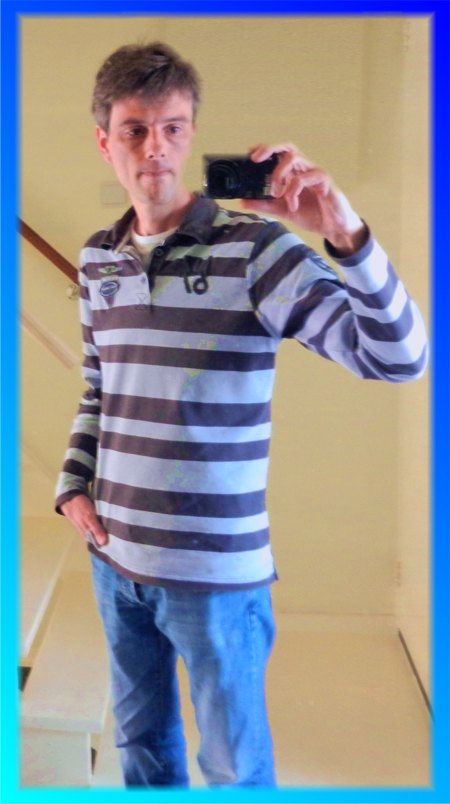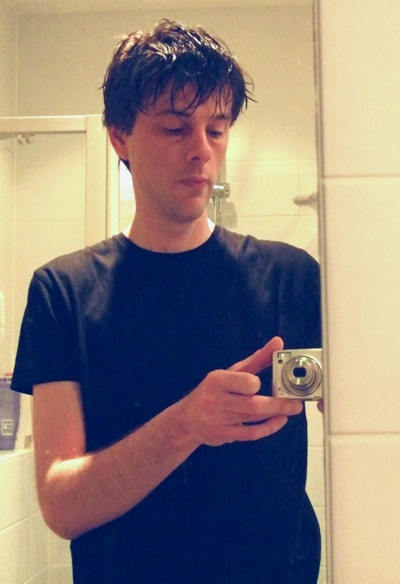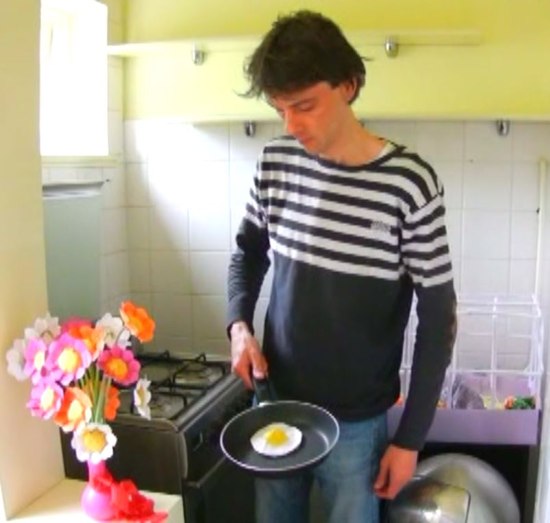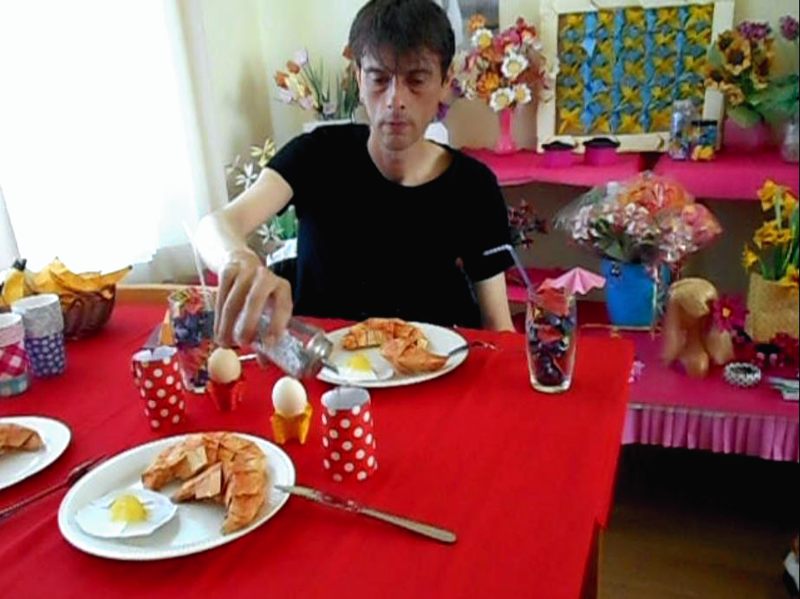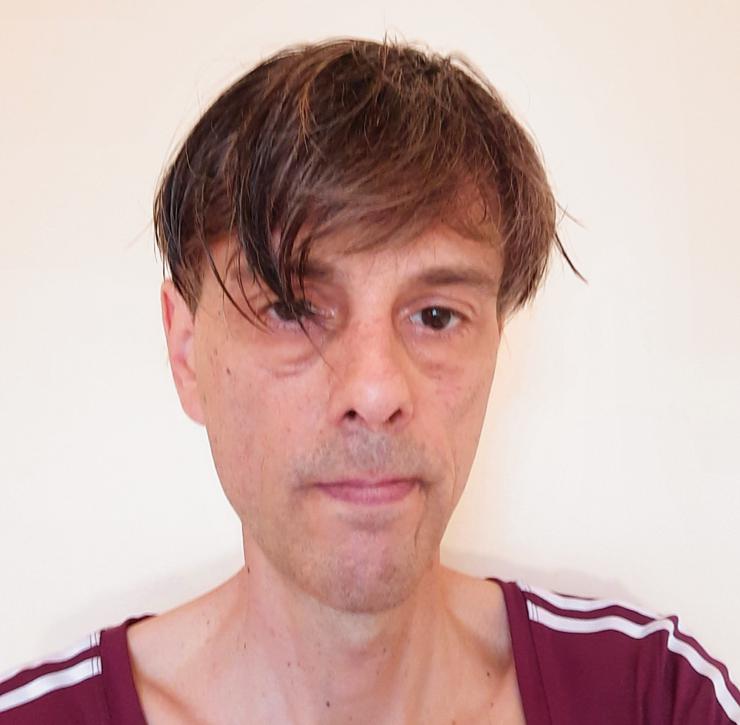 Visit at an Origami Museum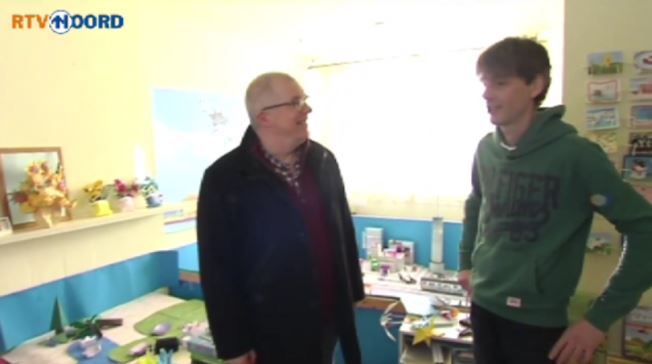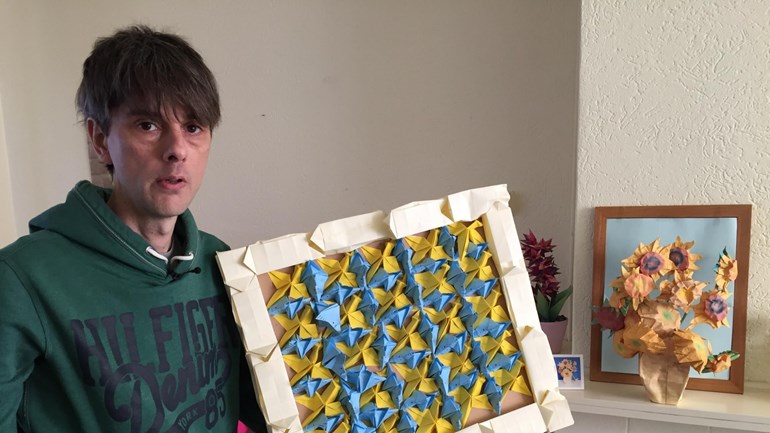 We were really impressed when we visited Joost Langeveld in his Origami museum.
He has developed into a real Origami-Expert and his house is full of the most beautiful Origami models.
Langeveld proudly shows us his Escher and Van Gogh, real Origami masterpieces.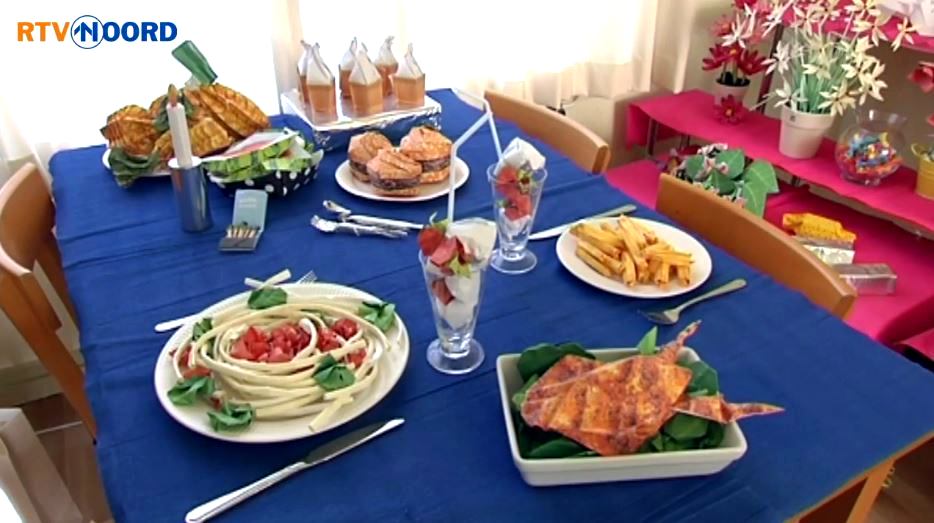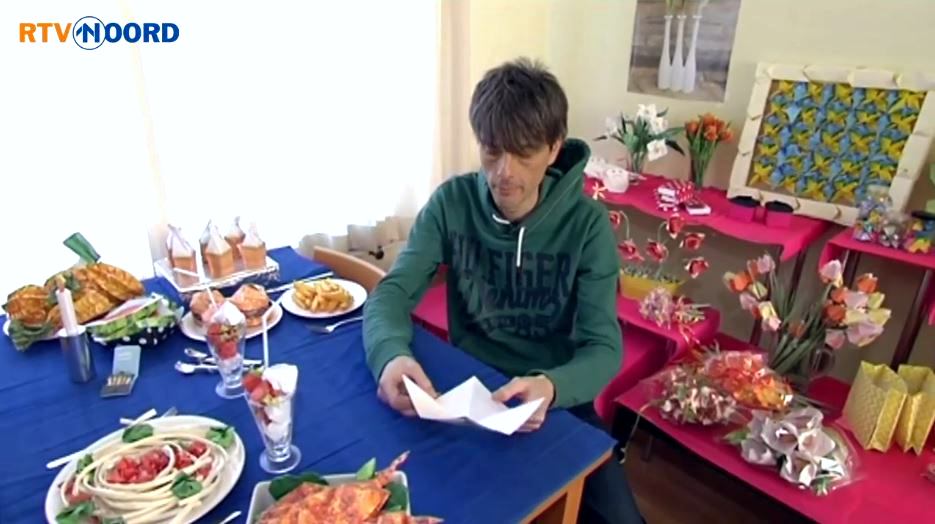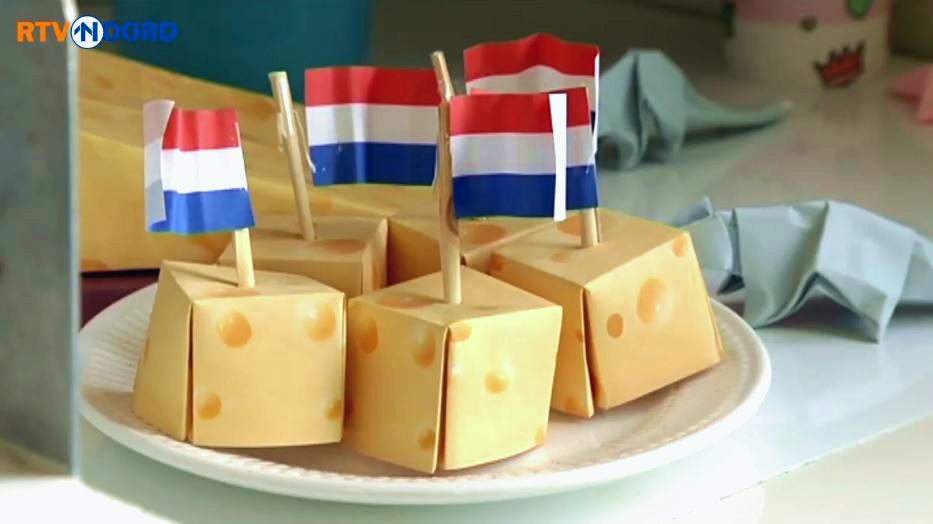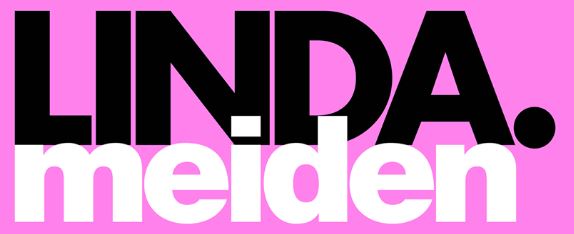 Linda Girls Magazine
Amber Myhre Bosch used my Statue of Liberty for a picture of an apple shaped wallet (New York).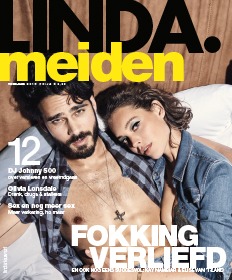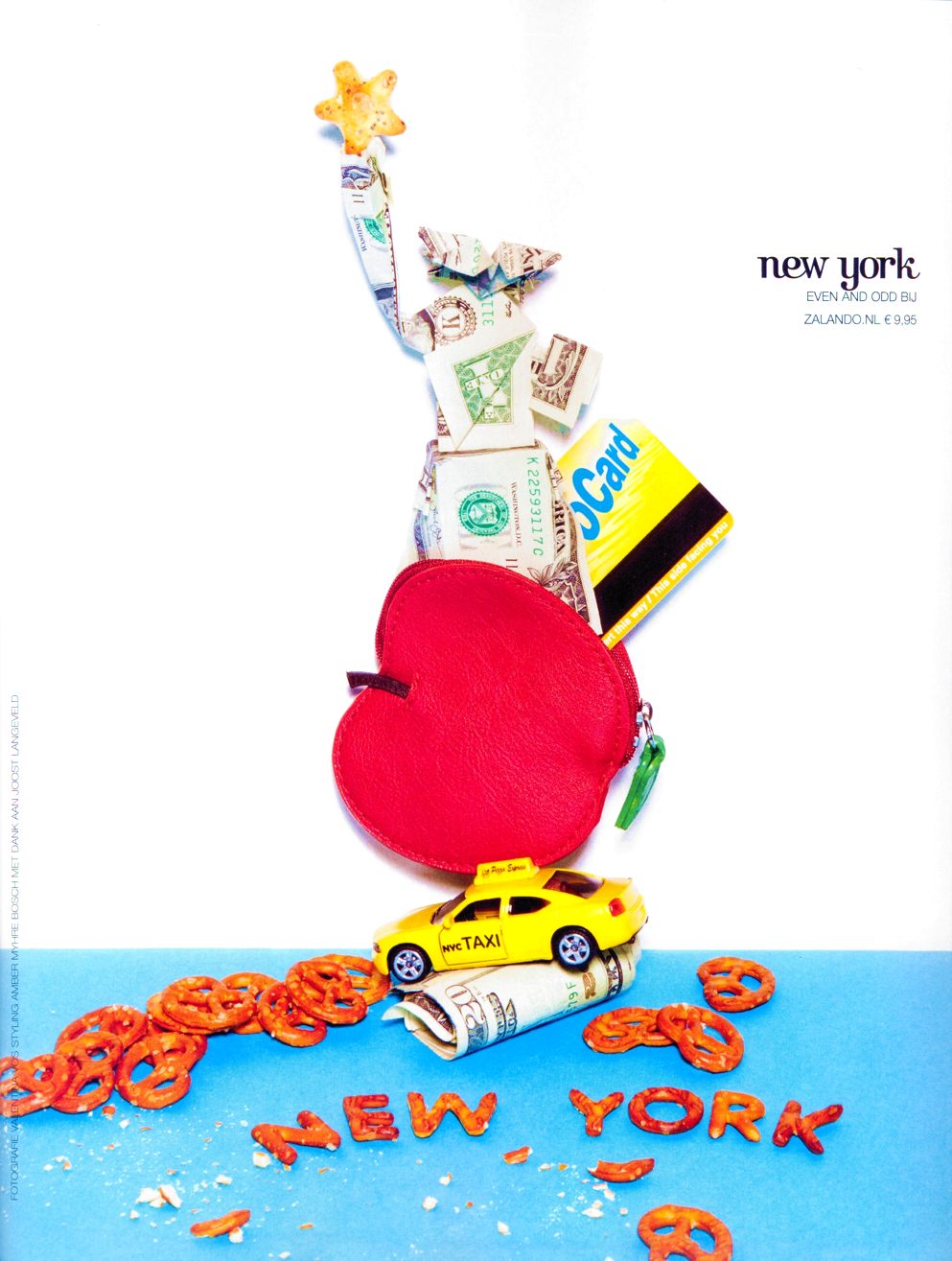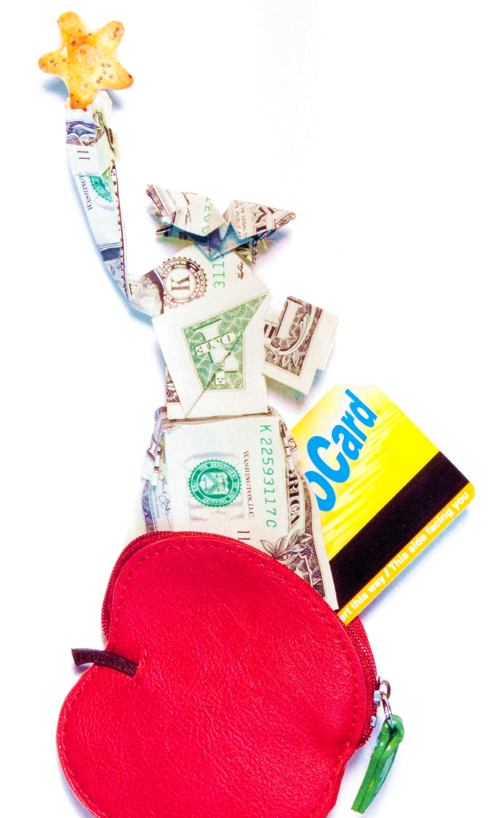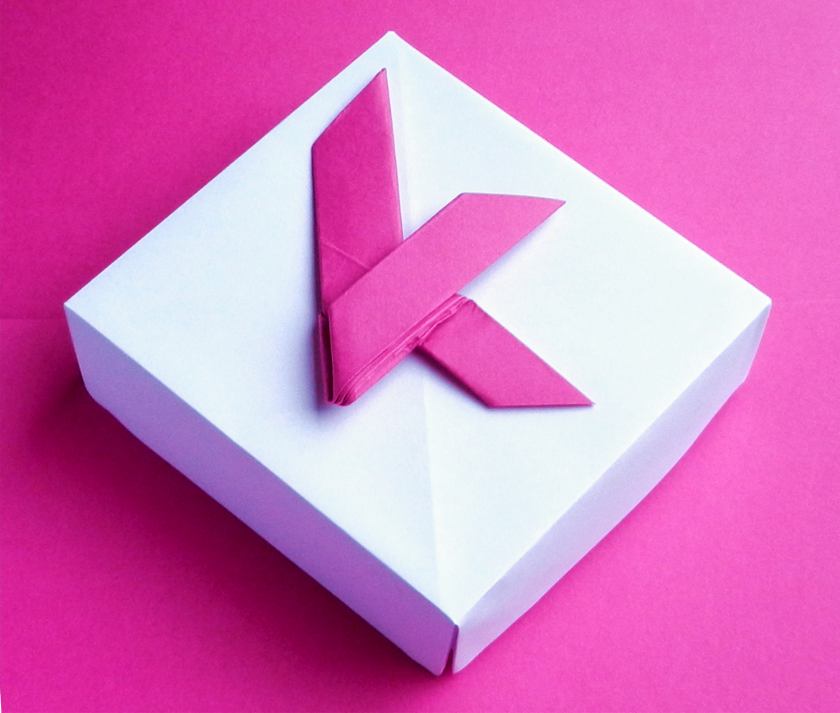 Origami Letter K design for a paper factory
A company from the Netherlands (REACH Baarn) asked me to design an Origami K which looked like the K in the logo they designed for a paper factory in Germany. The folding instructions with papers were meant to be used as a gift by this factory.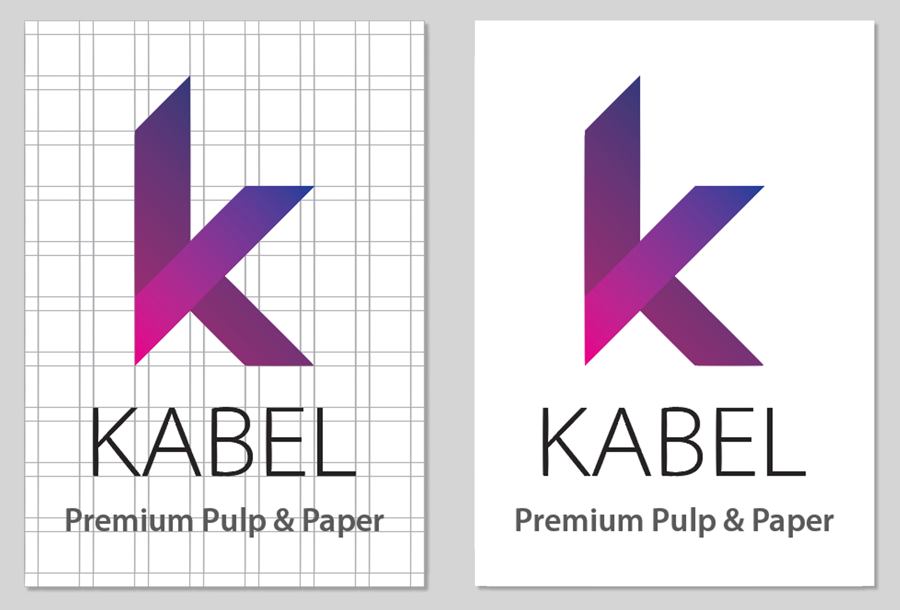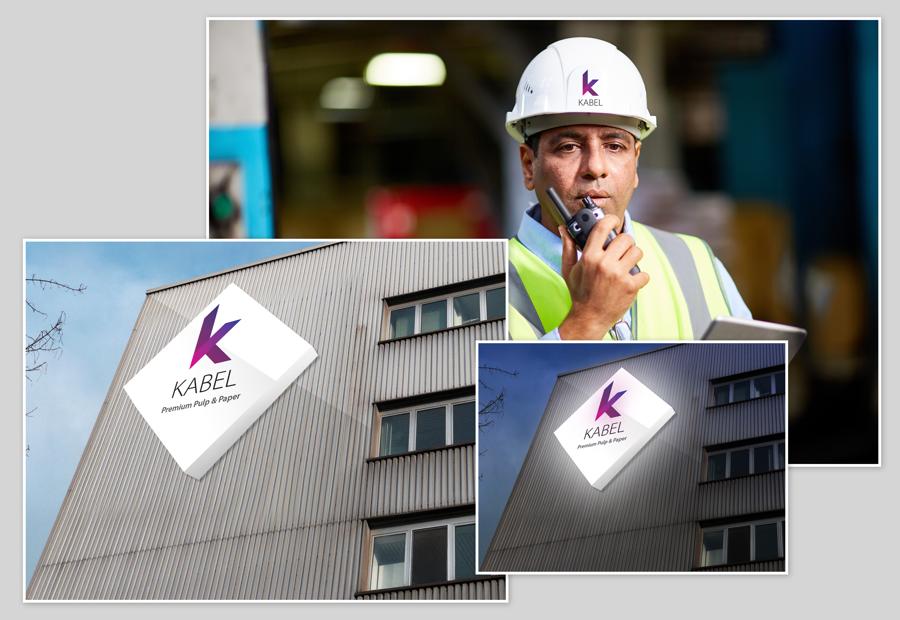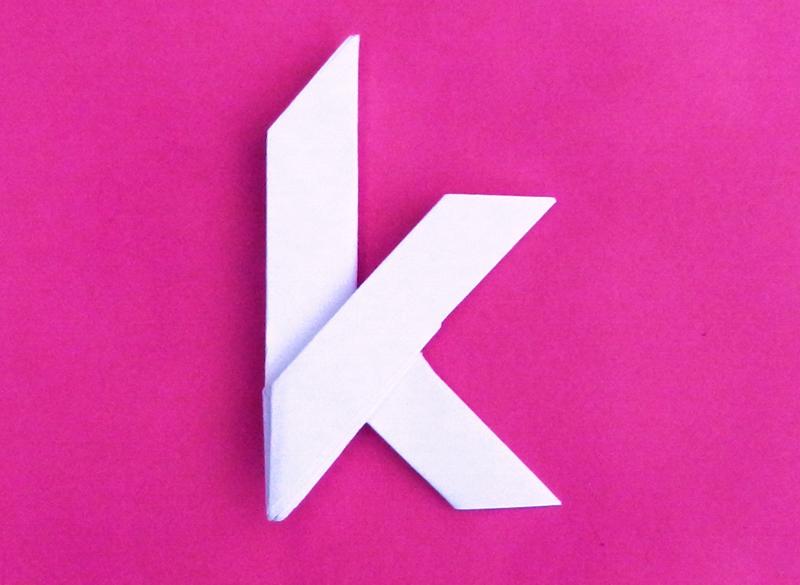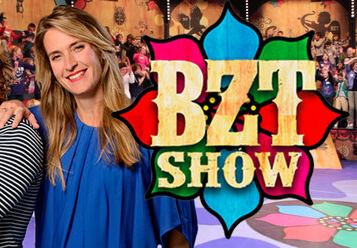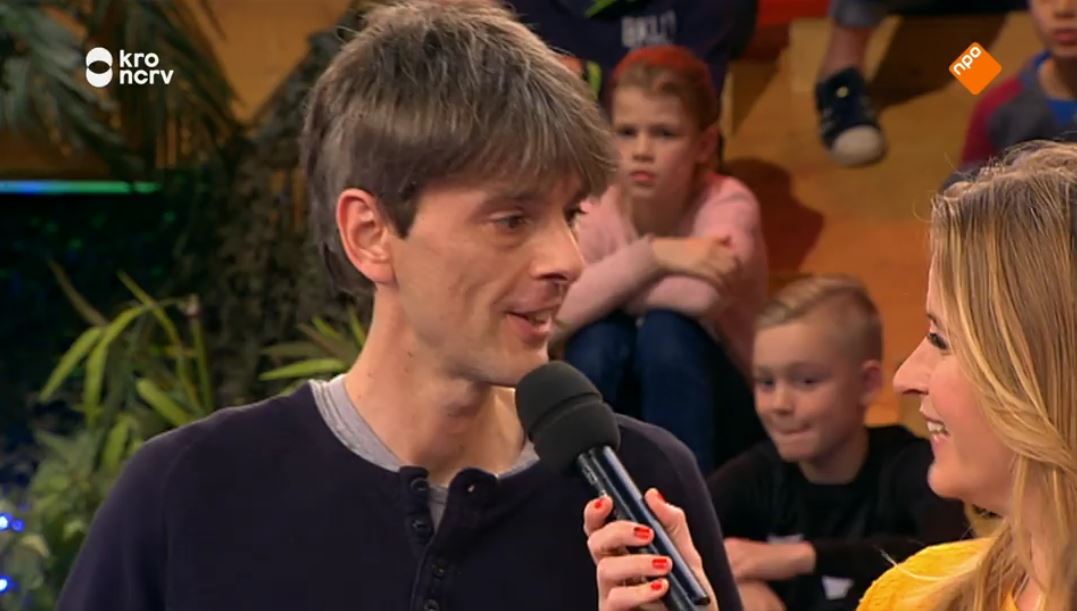 BZT Show - Origami Dragon

A TV program from the Netherlands invited me to help two Boys folding a large dragon.
Their wish was to fold a very large Origami Dragon.Folding it was a little more difficult than they expected.....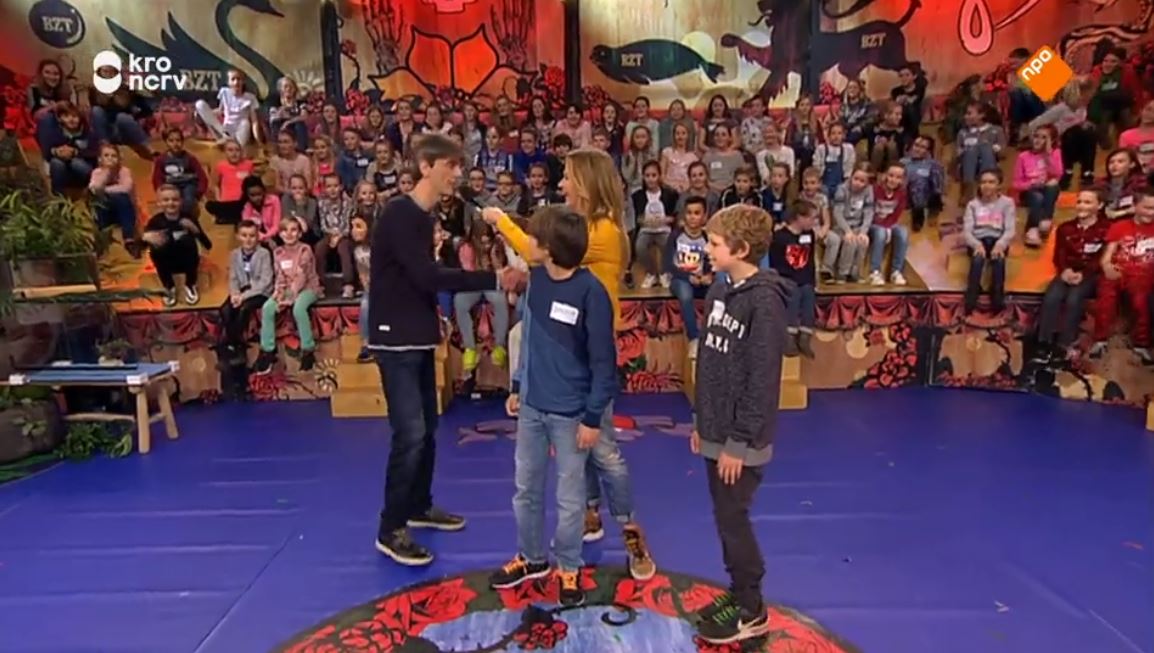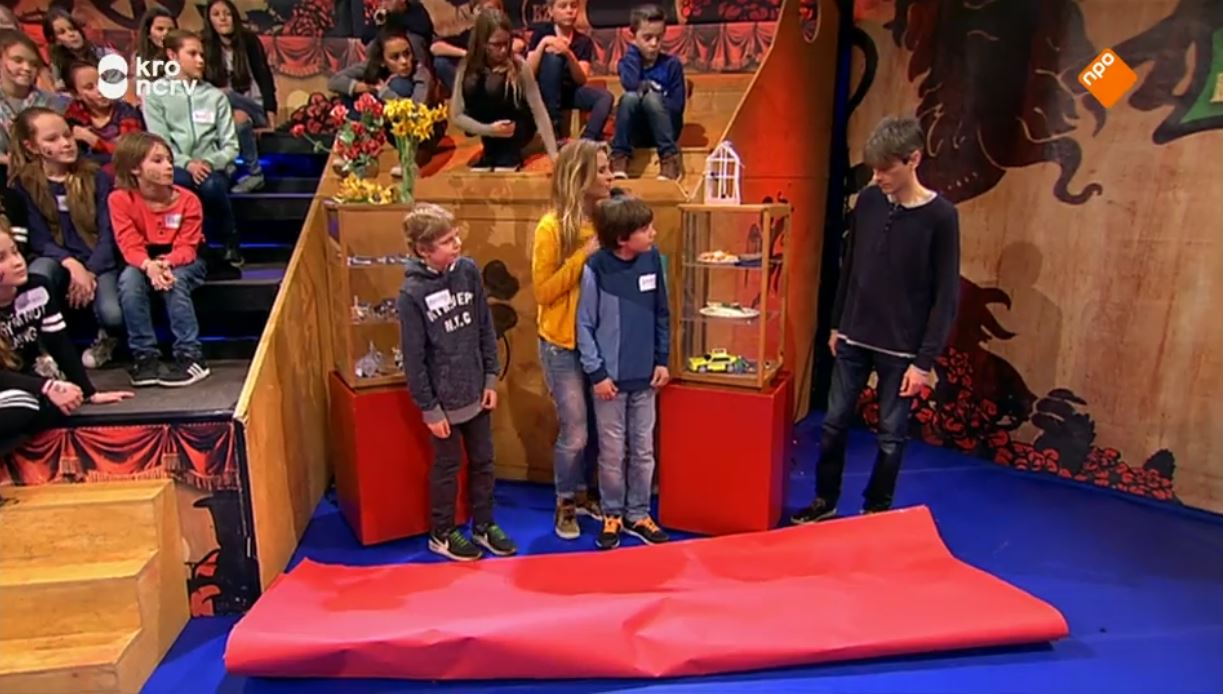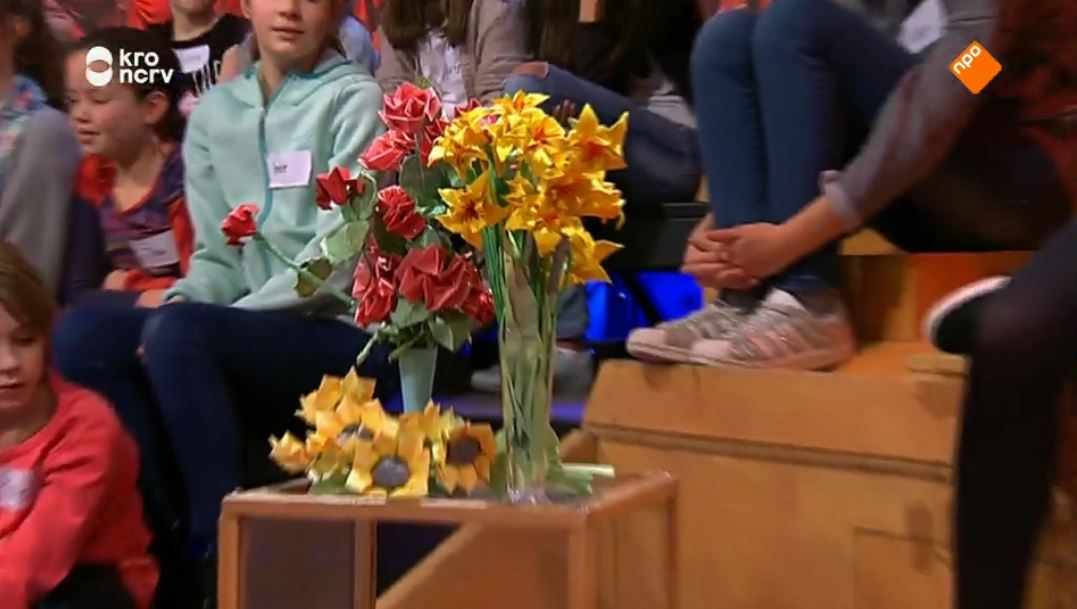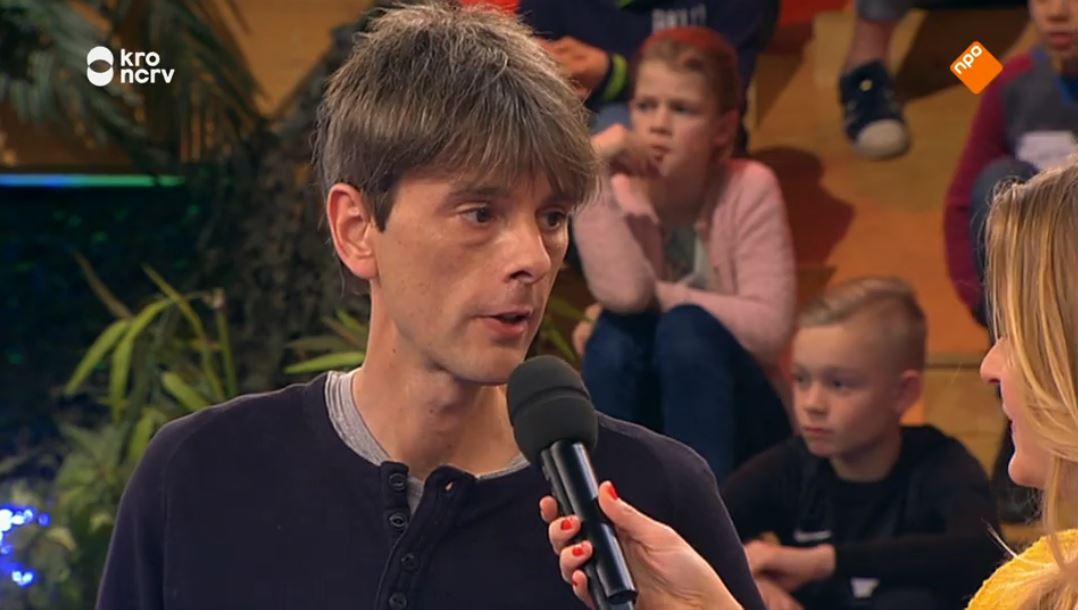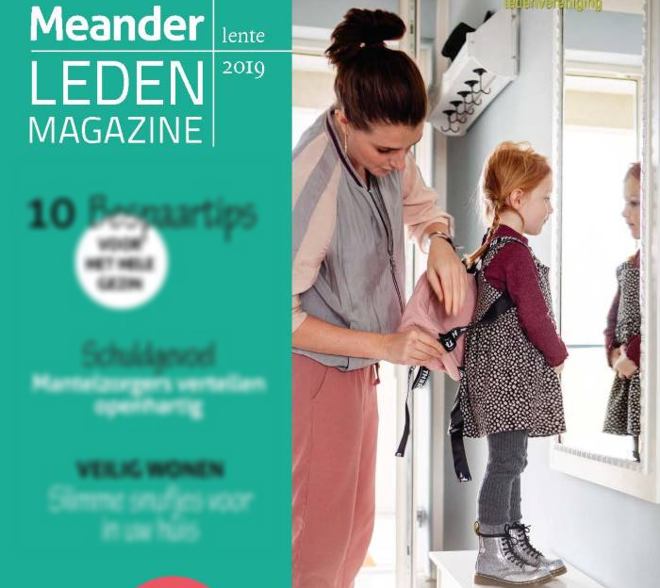 Money Origami for a Health Magazine


In commission of MPG today for Espria members association


I folded / designed about nine money models for a site / magazine with info about health insurances.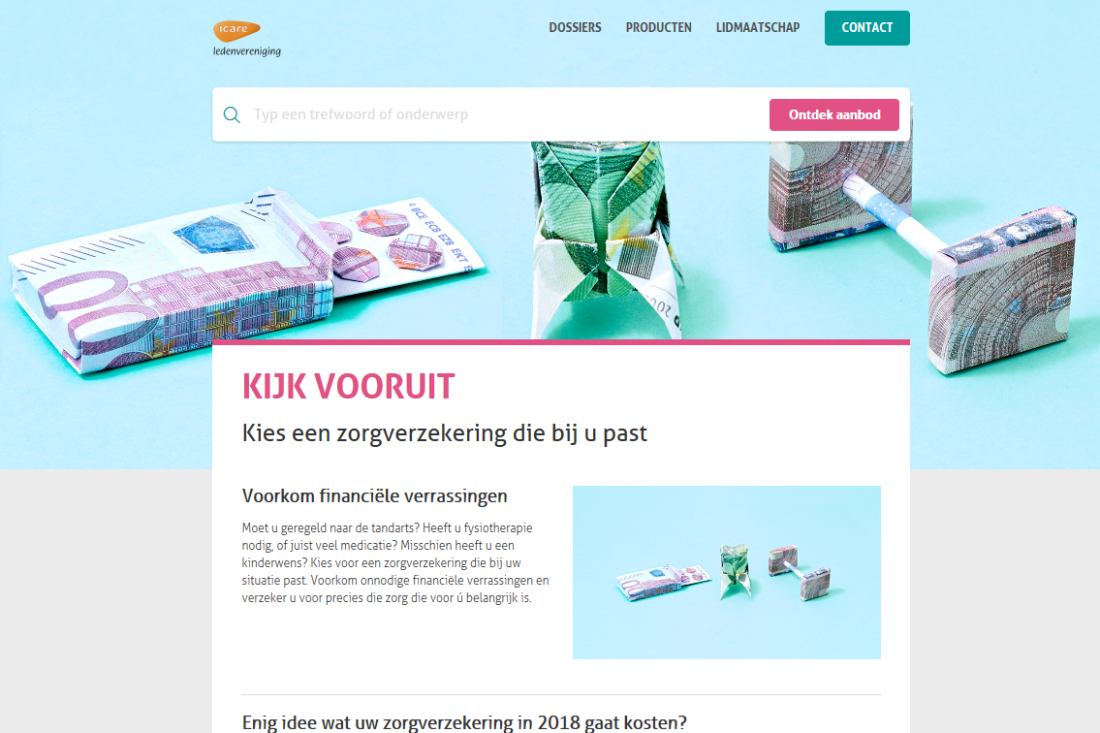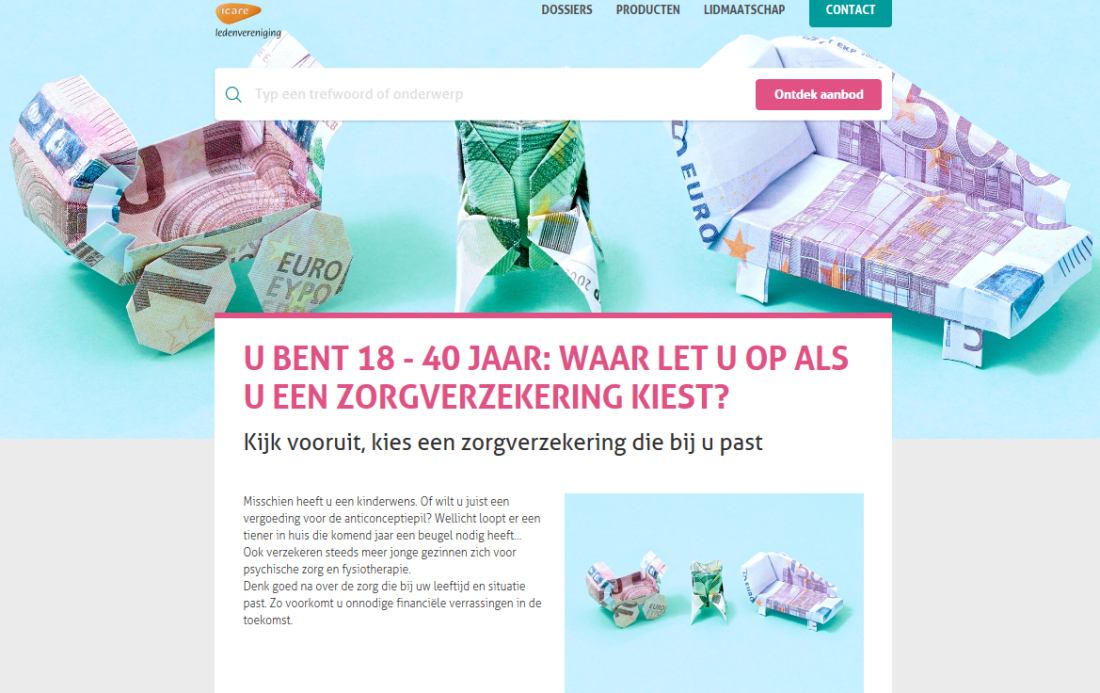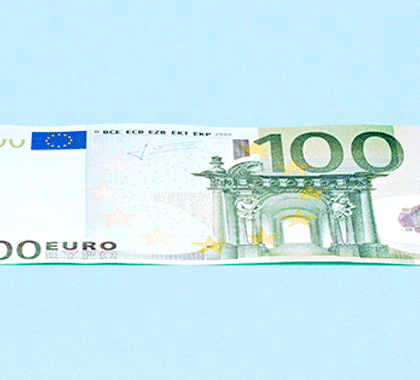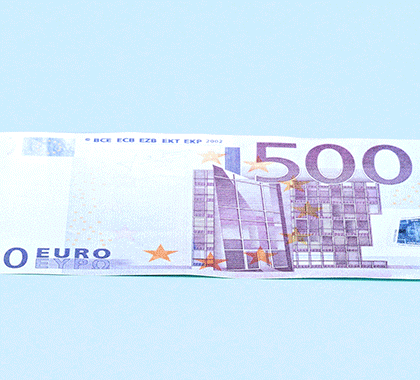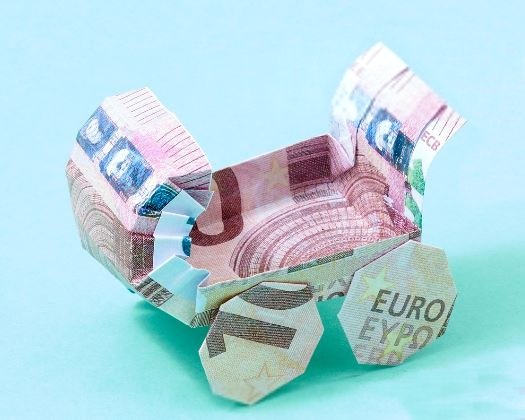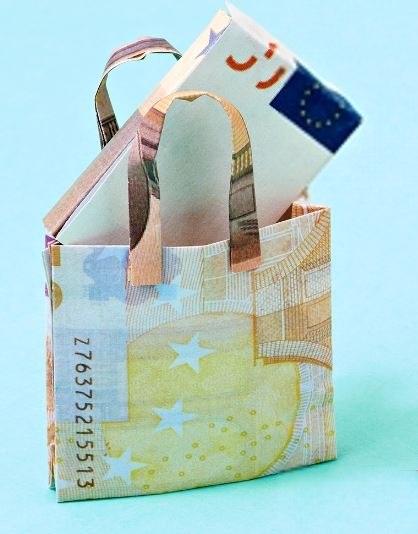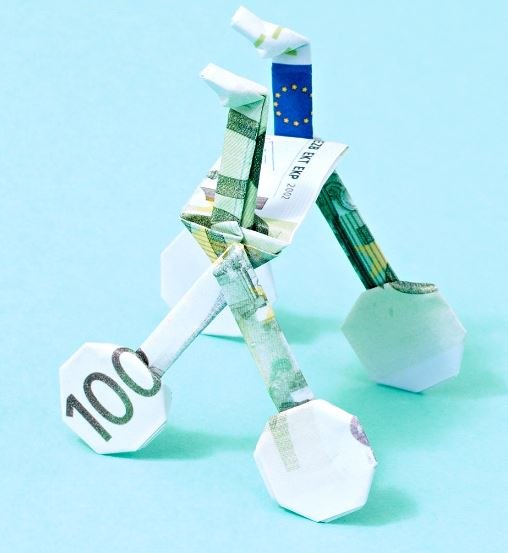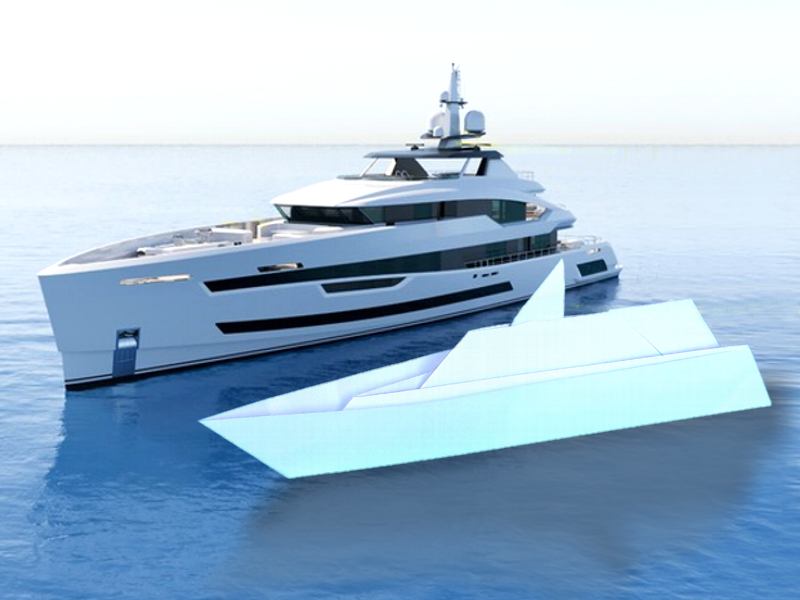 Origami Boat
In commission of LUKKIEN, for Heesen Yachts


I designed this boat for the Monaco Yacht Show 2019,
at guest dinners of a shipyard which makes luxurious yachts (Heesen Yachts).
The Origami boat is used as table decoration and by magicians entertaining the guests.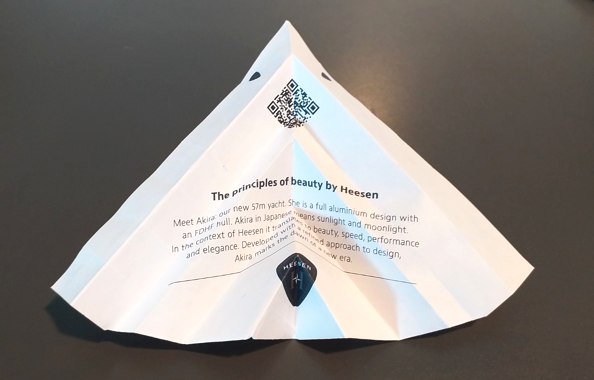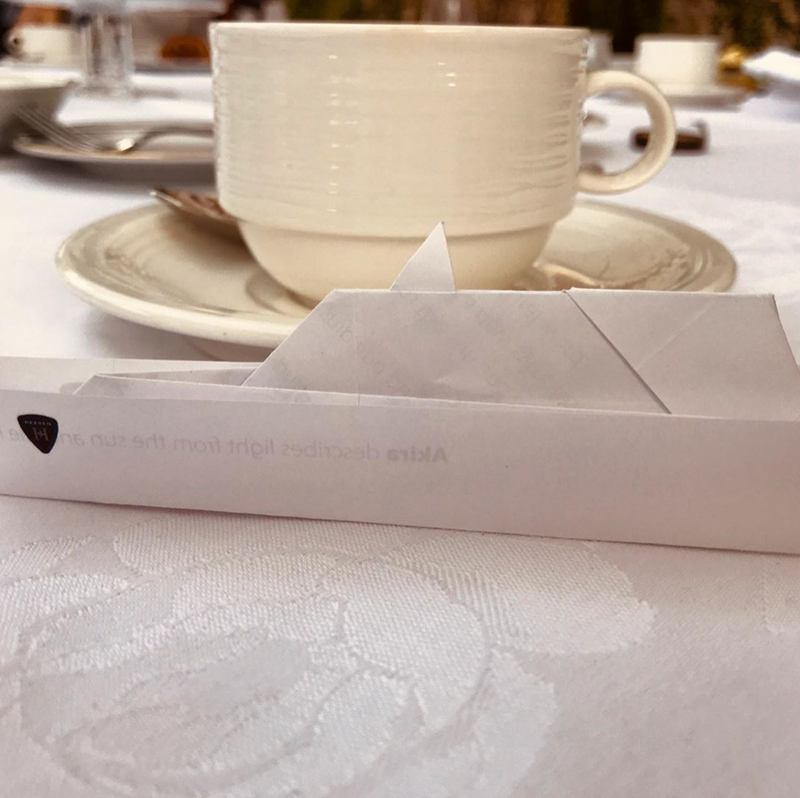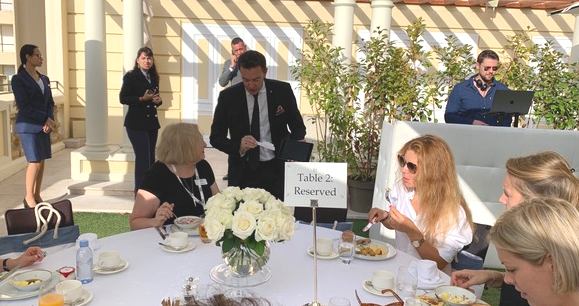 Origami Exhibition in 2021

This is a showcase of a small exhibition I had in 2021. It showed some of my better Origami and paper models.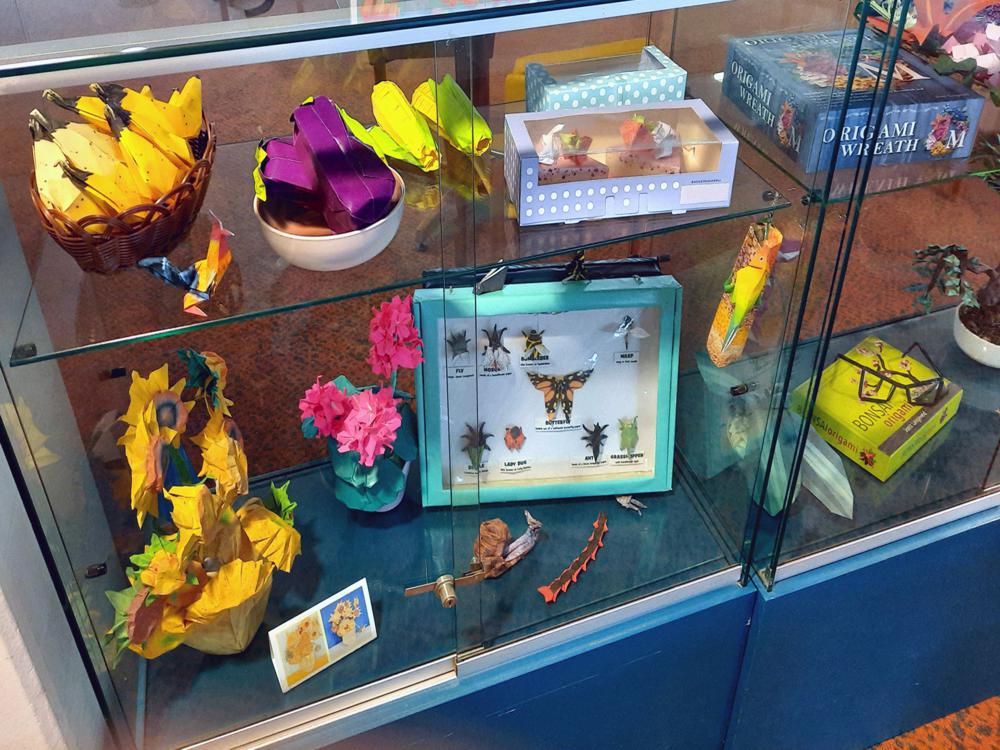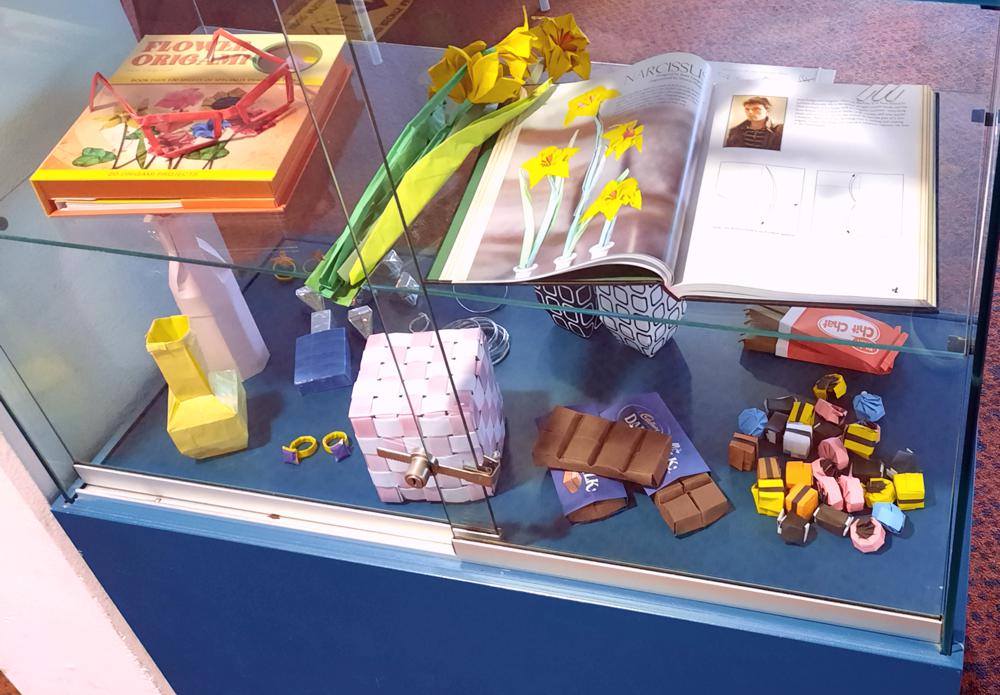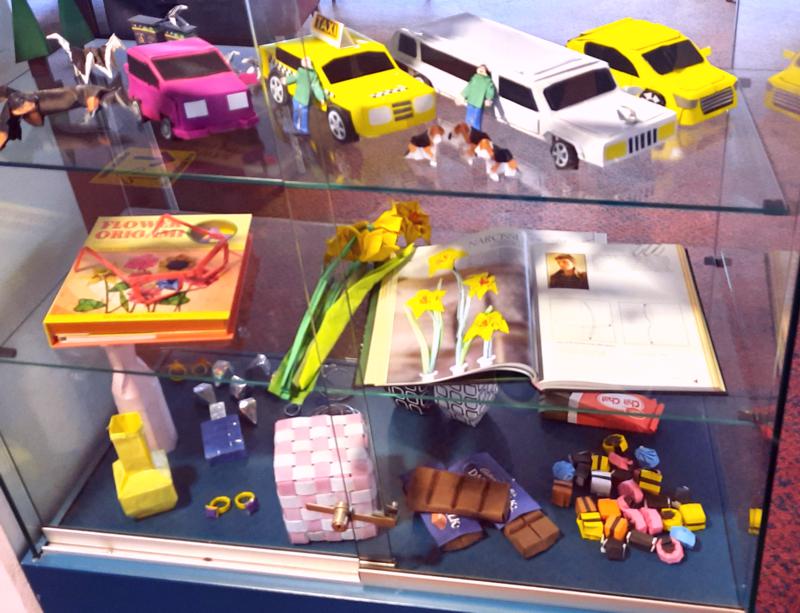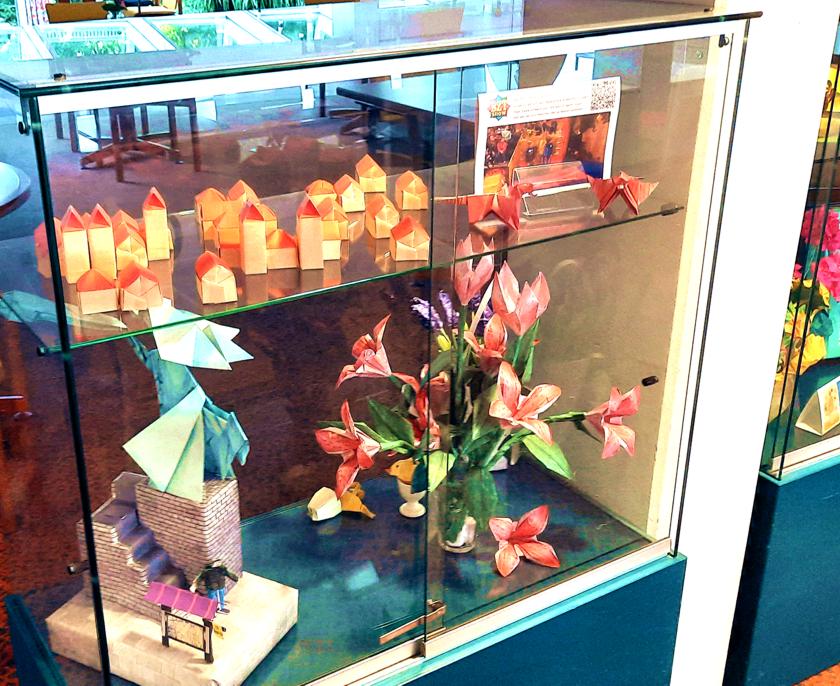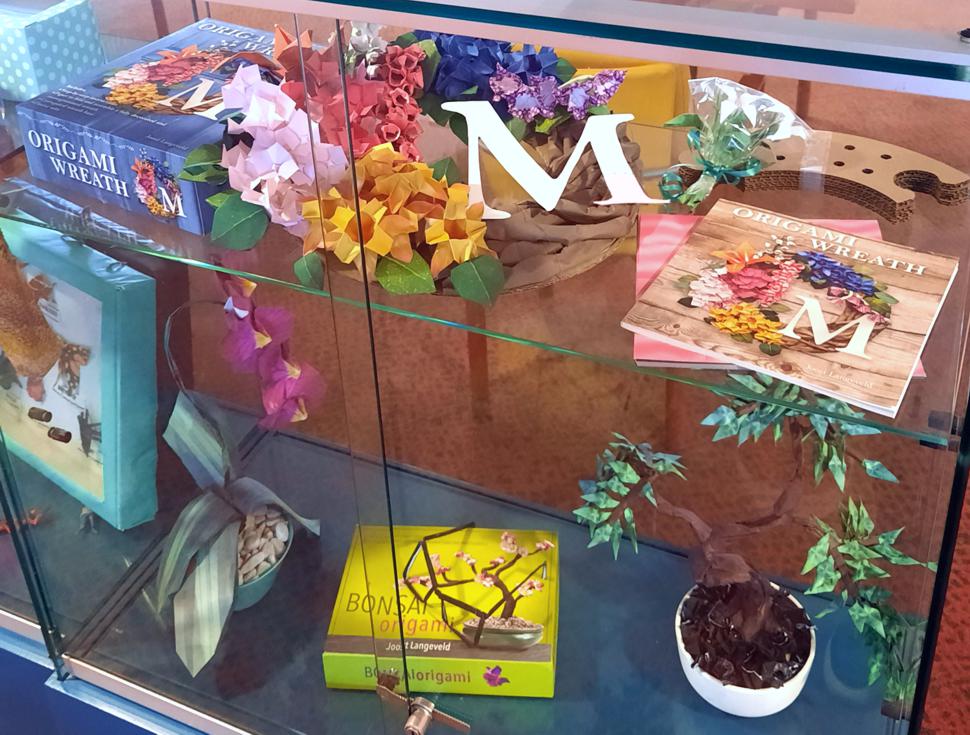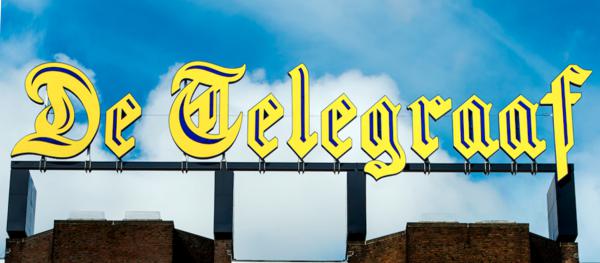 Largest Newspaper of the Netherlands: Puzzle with Paper
Please blink your eyes for a few seconds. Because those croissants on that counter... Are made of paper!
Just like the aubergines, the cutlery and most others things. Joost Langeveld (46) is ICT employee five
mornings a week and Origami Master for the rest of his time. Whatever he sees and likes, he can make
out of one paper square.
About 15 years ago Joost had the wish to become extremely good in something and decided to focus on
Origami. The first few years he made models out of other peoples instructions, later he started designing
his own models, mainly flowers at first. But also animals and food like a croissant, a hamburger or
French Fries.
It's difficult designing models with all those edges, but that's what makes Origami so interesting.
Designing is like solving a puzzle, Joost says. Sometimes the model is good in one try, other times it just
doesn't go right for him. In those cases, Joost leaves the model for a while and tries again with a clear
mind a few hours later.
Joost designed about 750 models so far, some models are real stunning. His house is a true
'Paper Art Museum' full of beautiful creations like a minature city and a large castle. His first exhibition
is done now: At his daytime work in a nursing home.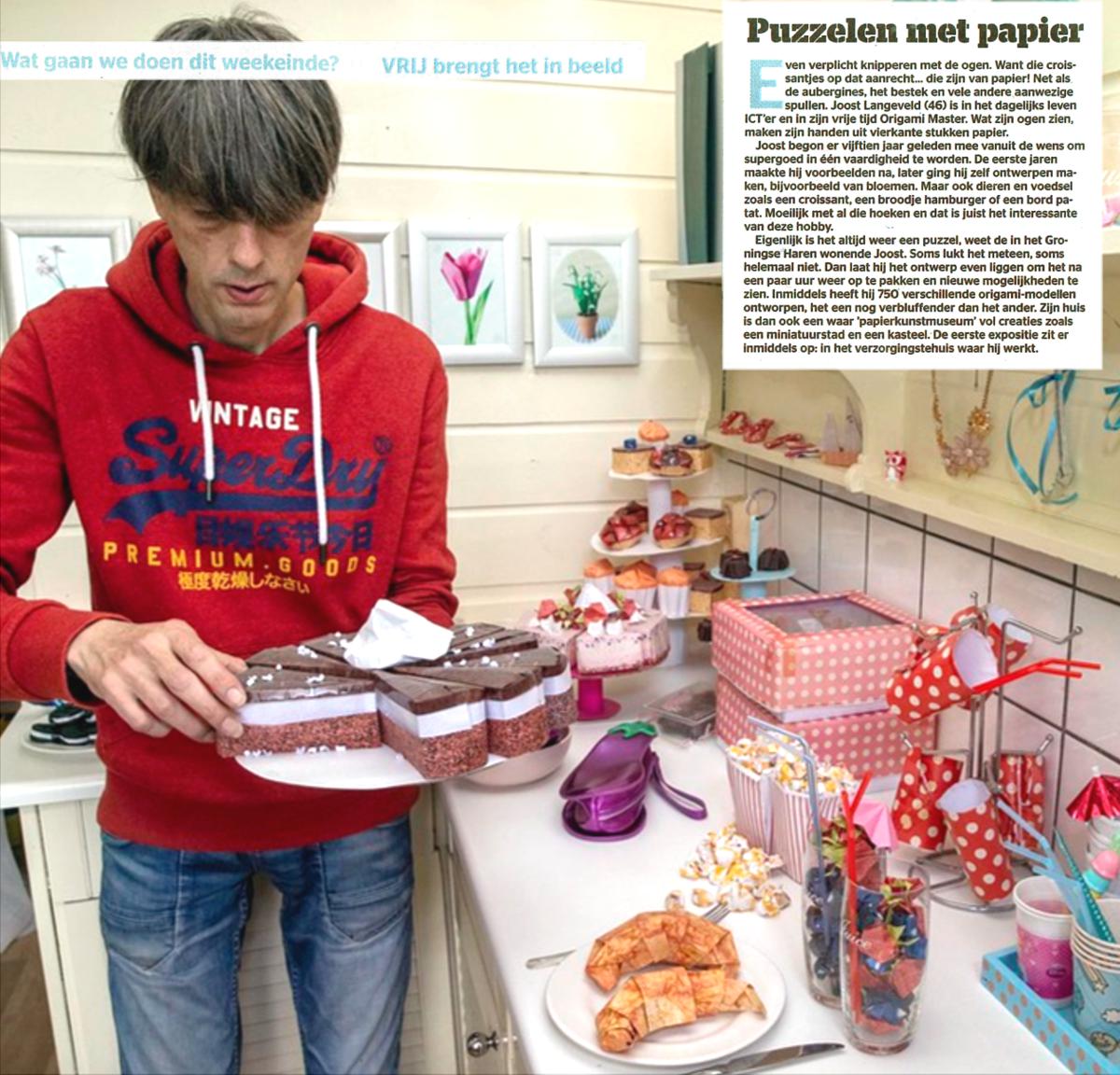 (photo: Jos Schuurman, click here to see the original pictures for this article)



Origami Superyacht


In 2021 a superyacht refit company from Spain asked me to design an Origami Superyacht.
They wanted to use the superyacht as (part of) a business gift for their customers.
The name of this company from Barcelona is MB92 and refits large superyachts